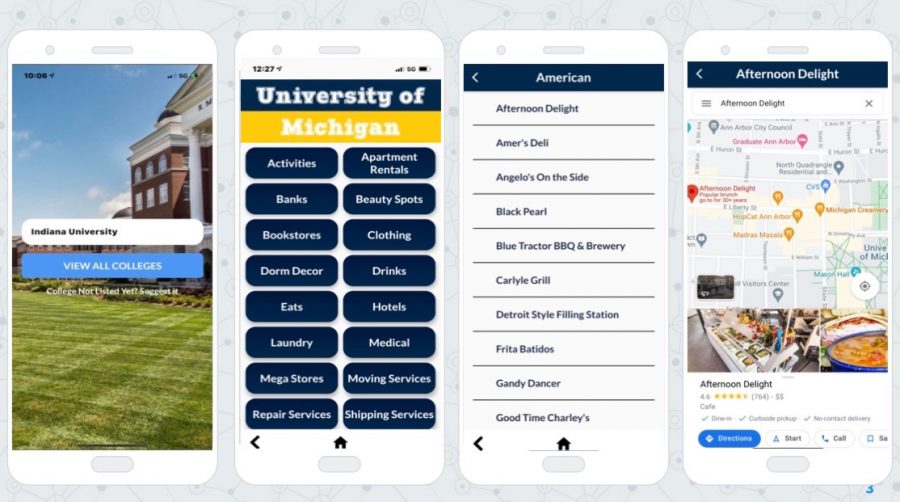 Calabasas senior Drew Victor has created All College Lists, an app tailored to students entering college. Victor's design offers access to campus directions and lists of restaurants, clothing and grocery stores and emergency services near campus. 
Victor was inspired to create an app that would offer in-depth information about universities after watching her sister struggle to find the right college during the pandemic, when campus visits were limited. Her sister complained that there was little online information regarding greater college communities, contributing to her inability to choose a school.  
"I thought it would be cool to have one app with all the information you can find, [including] directions and menus," said Victor.
Once Victor formulated her initial idea, she began the design process and was able to fulfill her vision, with the assistance of a coding team. The creation of the app, spanning nearly eight months, included developing the aesthetics of the app and collecting data. 
"Designing [the app] and choosing how I wanted [it] to look, with all the different colors and each college with [its] different colors, was my favorite part," said Victor. 
While this was Victor's first endeavour in app development, she had previous experience with programming because of her enrollment in AP Computer Science Principles at CHS. This course served as an introduction for Victor to the world of digital design. 
"I took AP Computer Science, which helped a little bit," said Victor. "I learned how to [develop an app] through certain programs, and people helped me."  
The app is currently in its opening stages, containing data on limited colleges. Victor hopes to include a wider range of information in the future, making the app helpful to the college commitment decisions of all students, regardless of potential destinations.
"While there are currently only eight colleges on the app, we are working on expanding it and adding more colleges and features," said Victor.