Santa Monica's Soda Jerk serves up scrumptious sundaes with a traditional flair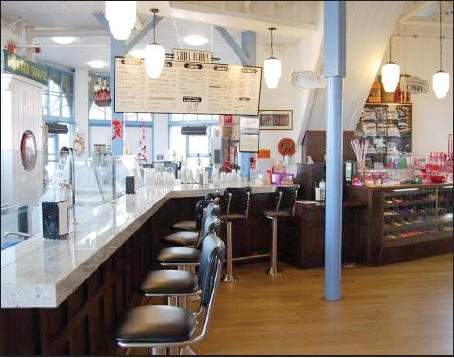 Hang on for a minute...we're trying to find some more stories you might like.
The sweet aroma of old-fashioned ice cream lingers in the air, tempting customers to take a journey back in time. Soda Jerks, located in the Carousel Building on the Santa Monica Pier, is a classic 1930s diner serving up old-fashioned ice cream to modern consumers. In 1937, the first "soda jerk" of the McCafferty family was born. Don McCafferty previously owned the Hilltop Lunch Counter in Marion,Indiana.
Despite the stress of the Great Depression, the Hilltop Lunch Counter was a phenomenal success in the world of ice cream. Inspired by his grandfather, Kevin McCafferty has continued his family legacy by opening his own restaurant.
Since July 2010, McCafferty has been stirring up masterpieces at his own parlor, Soda Jerks. The wide variety of delectable items on the menu vary from sundaes to original sodas. The names of each selection correlate with famous landmarks in Los Angeles such as "The Arcadia Hotel", a sundae consisting of one scoop of chocolate and one of white chocolate ice cream, topped with raspberry sauce and hot fudge. Other names like the "Two Cents Plain", a six ounce glass of soda water for only two cents, can be found on the extensive menu.
A local favorite is the "Will Rogers Hot Fudge Brownie", a brownie sundae topped with a large scoop of vanilla ice cream and a moist chocolate brownie drizzled with hot fudge. With over 15 flavors of hand-made ice cream, one is sure to discover a new favorite.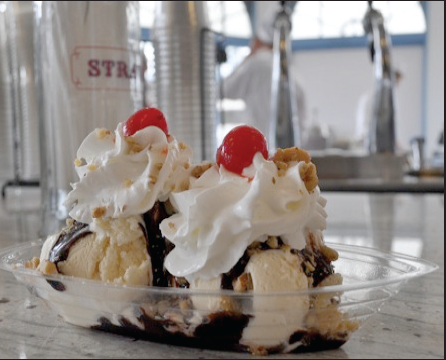 "When people walk into Soda Jerks, [we] want them to feel like they are in a different time era," said Soda Jerks employee Andrew Ramirez. "Because Soda Jerks is established in the Carousel Building, which has existed since the 1920s, people wonder if this restaurant has been here forever."
The décor from the 1920s and 1930s adds a nostalgic touch to the atmosphere. The old-fashioned Stanley Knight soda dispenser is used to create unique beverages with Soda Jerk's exclusive combination of soda water, crushed ice and syrups. Grape Coca Cola, cherry vanilla Coke Cola or cherry Dr. Pepper are some of the popular soda pop flavors made at Soda Jerks. A candy case dating back to the 1920s is home to classic novelty candies that customers can purchase while watching I Love Lucy on one of the antique televisions.
Take a trip back to the Roaring Twenties and experience original treats that date back to 80 years ago. Remember Soda Jerk's motto: "Life is Uncertain,So Eat Dessert First!" •