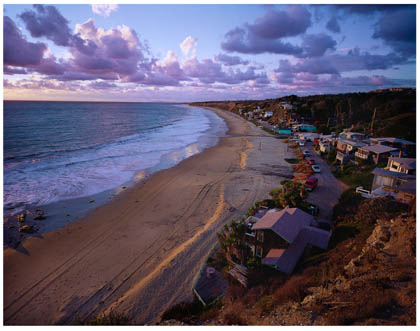 The enchanting Crystal Cove allows the stresses of reality to slowly slip away.  With 2,400 acres of beautiful beaches and hiking trails, Crystal Cove is the crystal gem of Laguna.  With its stunning landscaping and tranquil location, this one-of-a-kind beach takes the romantic saying "a long walk on the beach" to the next level.
The mesmerizing shore is lined with quaint cottages that will make you feel like you are in a fairy tale.  Horseback riding, hiking, swimming, scuba diving, camping and surfing are all activities that will fill your day with adventure when visiting this romantic getaway.  Pack a picnic and watch the sunset shine off the water and rocks.
"Crystal Cove is my favorite beach in California," said junior Brittani Clinite.  "It is one of the most beautiful beaches I have ever seen and I love to go there when I need a day of pure relaxation."
When visiting Crystal Cove, the diverse tide pools and caves will make the day unforgettable.  Beautiful sea creatures of all different colors inhabit the tide pools and make Crystal Cove's caves more than "Instagram worthy." The caves are filled with water that you can swim in while looking over the entire beach. Also, the large rocks on the beach serve as the perfect diving boards to jump off of into the clear blue ocean water.
"I would love to go to Crystal Cove with my boyfriend," said junior Madison Marer.  "During the holidays the beaches in Malibu are always crowded so we are always looking for a new place to visit."
The Southern California sun does not cease to shine during the winter.  Spend a day at Crystal Cove this holiday season; once you visit this beautiful hotspot, Zuma will never be the same!