Meet Calabasas Musicians: #GREATERTHAN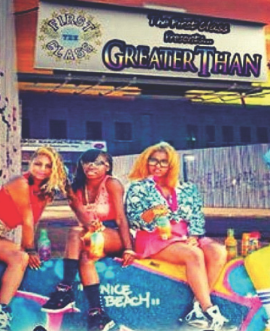 Hang on for a minute...we're trying to find some more stories you might like.
Applause reverberates around the room like thunder as a large group of adoring fans rise in appreciation.  For most musical hopefuls, this scene represents something found only in a dreams.  However, for the female members of the hip hop/rap group known as #GreaterThan, this experience is a reality.
In 2010, seniors Cairo Crockett and Rikki Jones and community member Jade Kay decided to combine their shared passions for music to form the lyrical treasure that is #GreaterThan.  Unlike many popular music groups, fame was not the band's principle objective.
"We are just trying to inspire everyone with our music, despite [our] age, gender or race," said Crockett.  "If our music changes a fan's outlook on anything, then we definitely have accomplished something."
The girls' natural charisma, exceptional talent and popular tunes continue to inspire their diverse audience.  Within the past year, this group of fierce females has released hits such as "The Anthem" and "Baddest Chick" that continue to empower their listeners.  Producers at Atlantic Records, the same management that represents musician Trey Songz, have recently been working closely with #GreaterThan.  The group also worked with BossChics Films, a company that did business with rapper Kid Cudi, to shoot music videos for their music.
"We are excited to work with a record label; we will be working with a lot of in-the-game-artists," said Crockett.  "We have the opportunity to have other artists featured in our new singles."
The rare opportunities presented to #GreaterThan have come by no stroke of luck.  Over the years, the girls have demonstrated dedication to their music and a strong sense of teamwork.  With the release of its new album in the near future, #GreaterThan is heading for success.
"It has been difficult being in a group with so many personalities, but we have been through so much together– I cannot see myself working with anyone else," said Jones.  "I am confident that with hard work and patience we will be extremely successful one day."