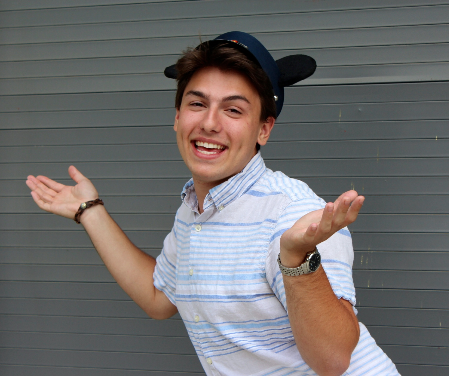 Though most high school seniors graduate with the intentions of attending a four-year university, a two-year institution or taking a gap year, senior Blake Jesse is reaching further than the norm and doing none of the above.  During the middle of senior year, Jesse decided that it would be best for him to attend a community college.  Wishing to pursue more and conquer his dreams sooner, he decided to investigate ways in which he can begin doing what he loves, during his time at the two-year institution.  After much thought and discussion with his peers and mentors, Jesse knew that where his true passion lay was with behind-the-scenes production and with Disneyland.  His love and admiration for Disneyland began from a very young age as he typically visited the theme park around eight times each year because his grandmother has worked with Walt Disney Records for over 25 years.  After doing a lot of online research, Jesse found the perfect piece to add to his future.  Driven by his love for production and his aptitude for showcase, Jesse will be concurrently attending the Disney College Program while at community college this coming fall.
The Disney College Program is a national internship program that The Walt Disney Company provides to students 18 years and older.  To qualify for a spot in the Disney College Program, applicants must meet certain criteria.  Aside from passing through a series of interviews, applicants must be simultaneously enrolled in another college or university and have successfully passed one  semester before beginning the program.  Students in the program live in dorms located at the Walt Disney World Resort and at the Disneyland Resort.  In addition, the program provides paid internship opportunities where students work directly on projects occurring on the Disneyland campus.
"Disneyland is my second home," said Jesse.  "There is nothing like working and learning where you live and play."
With his major in Business Administration and his minor in Engineering, Jesse hopes to one day become a Disney "Imagineer."  An Imagineer is someone who creates and designs different Disney experiences; these experiences range from attractions and line cues to Disney's performances.  They set the tone and atmosphere for what Disneyland is all about, as their work is present in the park from daytime to nighttime.  Jesse believes that being apart of The Disney College Program will provide him with the upmost experience in turning his dreams of being an Imagineer into a reality.
"A dream is a wish your heart makes," said Jesse.  "If you keep on believing in the dream that you wish will come true, it will – for me it did!"
Jesse's determination to create a life occupation through the midst of Disney's magic has left him motivated to succeed. From the pirates of the Caribbean boat ride to the Indiana Jones car ride, Jesse hopes to be the next innovative Imagineer – one dream at a time.