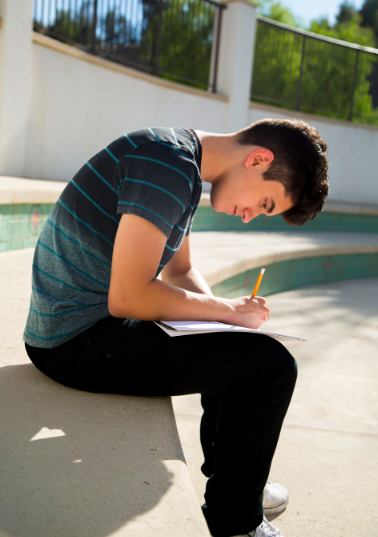 Both fellow students and fans agree that junior Ethan Ardalan has the talent and tenacity to succeed in the world of hip-hop. After the release of his new single, "Pasta," he received admiration from hundreds of supporters throughout the region. Ardalan recently uploaded his debut mix tape, "First-Person," to SoundCloud on Sept. 26. With over 1,000 plays after the first week of its release, "First-Person" is well on its way to becoming a hot topic in the San Fernando Valley.
Ardalan is a popular figure within his community not only for his work in the studio, but also for his skills on the basketball court. As a 5-foot-6 guard for the CHS varsity basketball team, he is often recognized for being a mighty yet humble underdog. Ardalan hopes to carry the same recognition over to the rapping realm. Although he continues to successfully represent the "818," Ardalan wants his name to be known by many more fans around the country.
"A lot of young rappers will produce good music, get some love and then disappear," said Ardalan. "If I keep creating new music that people like, I don't see why I can't make it. I have so much drive and I'm not stopping anytime soon."
The aspiring prodigy finally found his musical identity in eighth grade when he scribbled down a verse during class. Ardalan brought the lyrics home and found a beat that complemented his words perfectly, igniting the start of his rap career. As a result, Ardalan continued to write raps while waiting to be picked up by a recording studio. After much anticipation, Ardalan formed a partnership with reputable music producers, Maze Rockwell and Rudy Jimenez. Now he is back with more character, lyrics and passion than ever before.
Ardalan understands that in order to trademark his own identity, he must give listeners what they want: a fresh and bright appeal. He has been influenced by his own sense of self-confidence and many of the greatest rappers, his favorite being Kendrick Lamar.
"I don't really try to replicate anyone in particular," said Ardalan. "In this industry it's all about originality, so right now I'm just trying to develop my own unique style."
Although his rap career is finally taking off, Ardalan knows the importance of staying loyal to his values. He wants to be remembered for sharing his every-day questions, encounters and thoughts with his fans. By establishing a connection with his listeners, Ardalan hopes to achieve success on an entirely new level.
"I like to rap about topics that I know I'm true to," said Ardalan. "I'm not going to go write about something I can't back up. I strive to remain true to myself."
Ardalan's integrity is certainly helping his dreams transform into a reality. Nobody knows what is in store for the young rapper from Calabasas. However, as anxious fans continuously await the next mix tape, they can guarantee that Ardalan will put his heart and soul into every track to help make a name for himself in the world of hip-hop. To receive updates on his journey as a young entertainer, follow Ethan Ardalan on SoundCloud to listen to his debut album, "First-Person."