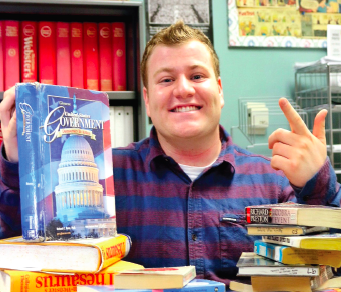 Very few high school students have the time or ability to start and run their own business. However, senior Matt Steinman has been able to take initiative and open a tutoring service while juggling the tasks of everyday life. With dedication and a desire to help others, he established a learning center called Fortitude Tutoring.
"I started tutoring friends and their siblings sophomore year," said Steinman. "It became too much for me to handle on my own."
Steinman has always excelled in school and has wanted to share his knowledge with his peers. Soon enough, he began receiving many requests from people within the Calabasas community for help with school work. Eventually with this surplus of students, Steinman had difficulty managing everything on his own. He asked his friend, a tutor in Advanced Placement Chemistry, to assist him in tutoring students. Soon, news of this service got around and Steinman gained even more clients. As a result, he decided to offer positions to some of his friends who would be willing to help tutor. With these new sets of hands, Steinman was able to assist all of his clients in every subject. Fortitude Tutoring was finally able to take off and began to flourish.
"Now we have 10 employees and over 50 clients," said Steinman. "The business has grown so much and I could not be more proud of how much we have accomplished."
Fortitude Tutoring provides tutors for every subject. From knowledge in chemistry to AP English, the diversity of the tutor's skills allows any student's needs to be met. Rates are decided depending on the subject and either one-on-one tutoring sessions or group tutoring.
In an effort to effectively make a difference in their client's grades, Fortitude Tutoring has created a system of teaching that involves the student. Rather than simply teaching a student a concept, each tutor works tirelessly with the client to make sure he or she is able to understand a subject or idea.
"I like to go over every different part of what [the student] is learning," said Steinman. "It helps them understand everything in greater detail."
Steinman has also set up a website for his company. By using his website and business cards, Steinman has gained many customers and is able to help multiple students achieve success. Clients range from elementary school age through seniors in high school.
In addition to his work currently, Steinman hopes to be with his fellow tutors and still run the business as long as possible. Steinman hopes he will be part of the business even through college.
"I would love for the business to grow," said Steinman. "But I am open to what the future has in store."
Steinman plans on using the money he earns to save for college and donate to charity in the future. Fortitude Tutoring has and will continue to provide help to students in need of tutoring. Many students have reported huge increases in his or her grades thanks to Steinman's tutors. Steinman's drive to start a business of his own out of something he enjoys doing has given him and his friends a new way to enjoy their high school experience.
If you are in need of a tutor, check out Steinman's Fortitude Tutoring website, fortitudetutoring.wix.com/success.