Calabasas campus staff goes above and beyond to make school better for students
Fernando Orozco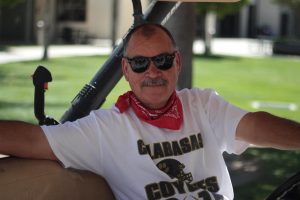 Since starting work as a custodian in 1990, Fernando Orozco has always made CHS an enjoyable and beautiful environment. This past April, Orozco's talents were recognized via his first employe of the month award. Orozco was awarded Employe of the Month based upon his diligent work on the CHS campus. It is beyond apparent that Orozco is adored at CHS; students and staff can both agree that his upbeat personality makes every day just a bit brighter.
   "I love Fernando," said junior Maggie Smith. "He is such a people person, every time I see him my day is just instantly better."
   Orozco is most notably seen perusing CHS on his speedy golf cart that is equipped with everything he needs to keep the campus in tip top shape. His signature bandana is always protecting his face from the sun, but he never seems bothered by a thing. Orozco's happy and relaxed personality makes even the gloomiest day just a bit brighter. His sensational personality and wonderful work ethic is what allowed him to earn Employe of the Month. On top of this, Orozco is extremely humble about the award, saying that he simply works hard just as all of the other staff members do at CHS.
   "I am so happy that the school gave me the Employe of the month award," said Orozco. "Last month felt like the best month of my whole career at CHS."
   Staff members like Orozco who are kind and hardworking are the epitome of a role model. While Orozco's 27 years of work was celebrated especially last month, he is deserving of more constant praise.
   "Every staff member of Calabasas High that works hard should be honored on a daily basis," said junior Jordan Strasser. "Fernando is one of the most diligent and dedicated people that work at this school.  Whether he is driving the golf cart, picking up trash around campus or talking to a student, he always has a huge smile on his face that radiates positivity and shows his compassion for children and his job."
   Orozco's presence also offers an interesting opportunity for many students at CHS.  Due to fluency in Spanish, he often converses with pupils in his native language in order to give them the opportunity to refine their language skills.
Al Vanhook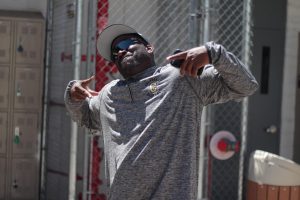 Since starting his job as a campus supervisor at CHS in November of 2015,  Al "My Man" Vanhook has become quite popular among students and staff. Vanhook is far more than just a campus supervisor: he is a personal trainer, coach, intense athlete, professional at saying "my man" and a more than wonderful father. At CHS, Vanhook is responsible for supervising the morning traffic, making sure students are in class on time, delivering notices from the attendance and counseling offices and voluntarily helping the girls softball team with their conditioning.
    Before Vanhook arrives at CHS at 7 AM on the dot, he begins his day with ESPN and a fresh cup of coffee. In the morning, Vanhook is keeping crazy CHS traffic in check, ensuring that parents do not pull any kind of funny business while dropping their kids off. Once Vanhook is done taking care of traffic, he makes sure students are in class on time. He says his process of making sure students are where they are supposed to be when they are supposed to be is all based on respect.
   "I feel like if you give students respect, you will get it back," said Vanhook. "I do not want to be seen as a bad guy or anything; I think it is really important to make kids comfortable here."
   One of Vanhook's most notable feats is how he saves CHS students come lunch time. When the bell rings, students flock to the gate that goes down to the senior parking lot, only to find it padlocked. Students await his arrival each and every day before lunch with empty stomachs and a need for Gelson's mac and cheese. The second Vanhook arrives to unlock the gate, chaos and cheers erupt—but have no fear, Vanhook always keeps the situation at bay.
   At the end of the school day, Vanhook begins his intense workout regimen. Vanhook describes himself as extremely competitive and "the biggest sore loser you will ever meet." He believes it is extremely important to stay in shape because it keeps him sharp and active. Besides working out, Vanhook also is an avid softball and basketball player. Vanhook's daughter also plays softball for El Camino; he attends every game and is a self proclaimed "superfan."
"Al is just the best," said junior Nicole Naidrich. "Softball is always lit when he comes. Tt is always super hard too but he just makes it so much more fun."
It is clear that Vanhook is most definitely a favorite at CHS. Whether it be his funny sayings or his persistent kindness to everyone, Vanhook makes sure to keep the school both a fun and safe environment for all students.