Senior Jordy Roth entertains CHS with unique emails
Hang on for a minute...we're trying to find some more stories you might like.
While Hillary Clinton's emails made an impact earlier this year, another political figure broke through the glass ceiling and has used his emails in a positive manner. Junior Jordy Roth has made quite the impact on his peers ever since he became treasurer. Roth's transition from baseball star to treasurer has not been easy. He has taken his hard work and dedication from the field to the classroom. Roth has been a major contributor in ASB but has cemented his place with his very crucial emails. Roth will only continue to influence his peers as he did while on the baseball team. Roth has done so much for CHS and really cares about not only the school but the students as well, and makes sure each student is accounted for and is up to date on every school event through the emails.
"These emails have reached a hundred kids," said Roth. "They have gotten to the point where they have become very important and will only continue to grow."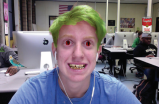 His charisma is limitless, and photoshop is one of his many talents. He shows how much he supports people of all hair colors. With his new contacts, Roth looks ready to hunt down anybody who is slacking off in the classroom.
Roth has been known to be a hard worker but this is just crazy. Roth works so hard that it is like there are two of him. Roth takes his countless hours that he previously put on the baseball field and puts them into the computer and graphic skills.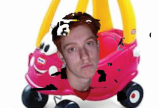 From this picture, many could say that Roth had a very happy childhood. Roth has not forgotten where he has come from. From Fisher Price to Chevrolet, Roth has come a long way. Roth will only continue to dazzle everyone he meets.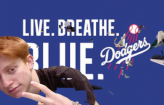 Handling money as treasurer of ASB is not Roth's only passion. Roth is an avid sports fan. In particular, baseball is his cup of tea.  In fact, Roth dominated the field before he retired. Do not let the red hair fool you; he bleeds Dodger blue.