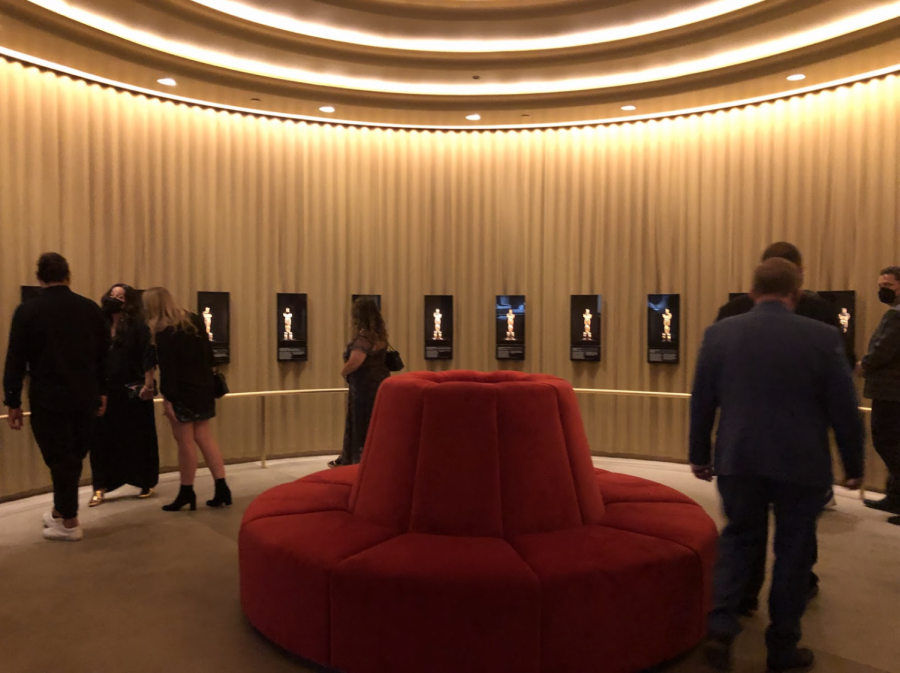 The highly-anticipated Academy Museum of Motion Pictures opened Sept. 30 in Los Angeles. Designed by Italian architect Renzo Piano, this museum will be the largest institution in the United States dedicated to the art of moviemaking. 
The museum's seven floors include a cafe, museum store and two theaters for screenings. Two of the building's defining features include the large gold cylinder made of 350,000 different tiles, and the glass and concrete sphere nicknamed "Death Star." Construction of the building alone cost close to $500 million. The 50,000 square foot space is filled with movie memorabilia, behind-the-scenes production details and immersive experiences into the history of filmmaking.
Highlights from the Collection showcases prominent movie relics, including the iconic ruby-red slippers worn by Judy Garland in the "Wizard of Oz," the only surviving full-scale model of the shark from Jaws, and the May Queen gown worn by Florence Pugh in Midsommar.  The Path to Cinema: Highlights from the Richard Balzer Collection offers guests a firsthand view of the inventions responsible for the evolution of film. 
"The shadow play, peep shows, magic lanterns, zoetropes and praxinoscopes to the Cinématographer Lumière, the world's first successful film projector are all on display," according to the exhibit's description on the Academy Museum's website. 
For a limited time, patrons can explore Hayao Miyazaki, an exhibit displaying the work of the internationally celebrated Japanese filmmaker and artist. Boasting original imageboards, character designs, storyboards, layouts, backgrounds, posters and cels from Studio Ghibli's archives, the exhibit will include items never seen outside of Japan. 
Programs are regularly featured at the museum's two theaters, including the upcoming film screening of the 1993 film Sankofa and a conversation panel with Academy-Award-winning actress Laura Dern. The theaters will provide year-round screenings showing anything from the golden-age classics to beloved modern films. Studio Ghibli movies will also be shown from Sept. 30, 2021 to June 5, 2022. 
The museum gift shop includes merchandise from a number of different films and filmmakers including Spike Lee, Hayao Miyazaki, and The Wizard of Oz.  There is an apparel line offering t-shirts featuring Bruce Lee and puzzles depicting Wonka's chocolate factory from Charlie and the Chocolate Factory. Visitors can also shop online through the museum's website. 
Tickets can be reserved online and admission is free for anyone under 17. Visitors must  provide proof of vaccination or a negative covid test 72 hours prior to their reservation.  The museum is doing it's part in memorializing movie history, and offers something for cinema fans of every kind to enjoy.