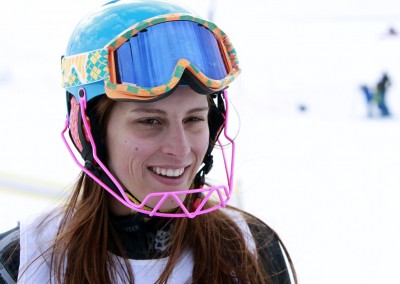 Jackie Chamoun, a professional skier who is representing Lebanon at the Sochi Winter Olympics, is facing a scandal back at home after her topless images appeared online in early February. These images have created such an uproar that the Lebanese Olympic Committee is investigating her.
Chamoun, 22, one of just two Lebanese Olympians in Sochi, is set to compete in the slalom and giant slalom skiing events this week. Chamoun also skied in the 2010 Vancouver Games, placing 54th in the slalom. Three years ago, she and a fellow Lebanese skier posed for a calendar that has annually featured both male and female skiers in various states of nudity.
Lebanese media outlets reported the photos, with several declaring the story to be a scandal. Lebanon's sports minister Faisal Karami reportedly called the Lebanese Olympic Committee president Jean Hammam and asked him to launch the necessary steps to ensure Lebanon's reputation was not at harm.
In response, Chamoun apologized on her Facebook page and called the situation sad. She apologized for sending mixed signals on the image of her country and culture. Shortly after, a group of Chamoun's friends in Beirut created a Facebook page and offered to take professional nude photos of people with a small, yellow disc reading "#stripforjackie" to cover the essentials. Even Lebanon's largest beer company, Almaza, got involved in the campaign by posting a picture of a bottle in the snow with no label.
Although critics are obsessing about Chamoun's scandal, she will still be competing at the 2014 Sochi Winter Olympics on Feb. 21.