Local police officers must now wear cameras while on duty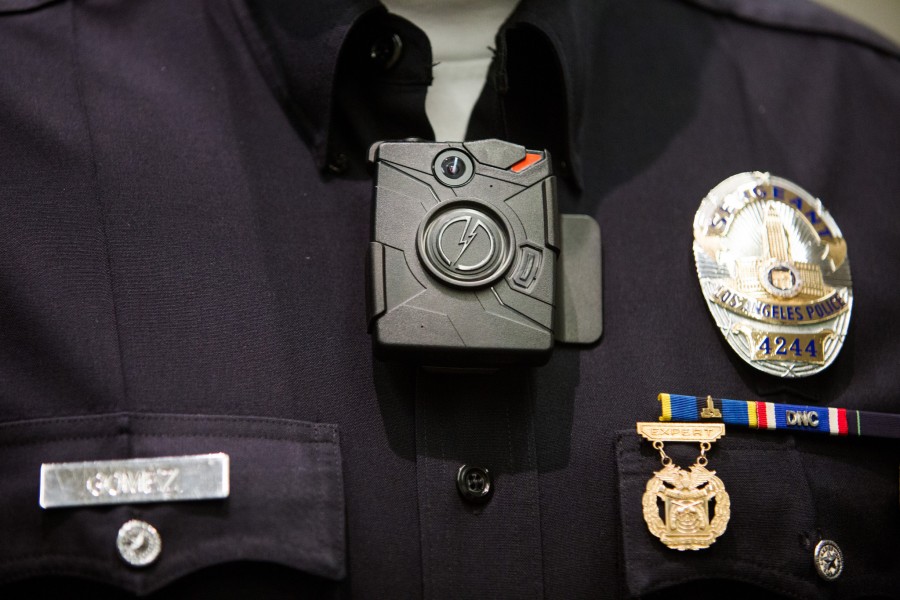 Grace Papish- Staff Writer, Photo courtesy of Google Images
February 5, 2015
On Dec. 16, Los Angeles, Calif. Mayor Eric Garcetti announced that the city is ordering 7,000 body cameras for Los Angeles Police Department officers. To avoid budget problems, the city of Los Angeles raised over $1,000,000 in private donations for the purchase of these cameras. After testing various camera models, LAPD officers decided to use the Taser Axon body camera. Officers can wear the Taser Axon on their chests, and the device will record both audio and video. In Jan., foot-patrol officers in Downtown Los Angeles began wearing these cameras to test their effectiveness. So far, these tests have been met with mixed reviews.
Advocates of the body cameras believe that they will promote general welfare and hope the cameras will lessen officer misconduct, as well as cases in which the officer is wrongly accused of a misdemeanor. President of the Police Commission Steve Soboroff believes that the implementation of the cameras may set a precedent for other law enforcement agencies across the country. On the other hand, protesters argue that officer access to the body cameras may cause officers to alter their police reports so that they match up with the footage. The American Civil Liberties Union has called for specific policies that will protect those interacting with officers so that the footage of the interactions will not be exploited. Mayor Garcetti hopes that the body cameras will strengthen the trust between the officers and the community.
"These cameras will help law enforcement and the public alike find the truth, and truth is essential to the trust between the LAPD and the community," said Mayor Garcetti in a recent press announcement. "Trust is built on transparency."
This new policy is a direct response to the recent incidents in Ferguson and New York, in which white police officers were not indicted for the killings of two unarmed black men due to conflicting accounts of the assaults. According to Garcetti, the non-indictment of the officers has led to unrest throughout the country, including areas of Los Angeles.
"The fact that the LAPD has to use body cameras is definitely upsetting," said senior Sabrina Silberman. "However, this new implementation is necessary because we cannot afford to lose anymore citizens to police-civilian violence."
As the first major city utilizing body cameras, supporters believe that the LAPD's new policy marks a shift in the legal community. Los Angeles policy makers and the LAPD hope that these body cameras will create a stronger trust between the city and its protectors.