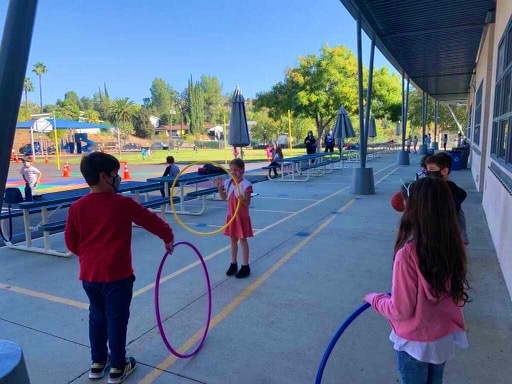 Las Virgenes school children from TK through grade two returned to the classroom after the Los Angeles County Department of Public Health granted a waiver to the district, allowing younger students to return. Presently, the district plans to bring third graders back in December.
While in school, students are encouraged to stay extra safe and cautious, according to Superintendent, Dr. Dan. Stepenosky. Students have access to sinks to wash their hands in the classroom, hand sanitizers, and cleaning products. 
"LVUSD has placed many updated health and safety measures," said Stepenosky. "Parents will check in daily on Aeries. When arriving at school, children will get their temperature taken with the Feevr Thermal Scanner, monitored by a campus supervisor. If a student shows up 'warm' they will get their temperature taken individually, and be examined by the health clerk."
Stepenosky also indicated that new disinfectant cleaners have been added in all the classrooms. These cleaners provide extra protection against germs and viruses and are identical to the cleaners used at hospitals and in surgical rooms.
 "The cleaners create hydro peroxide radicals which eliminate bacteria, viruses, germs and chemicals, along with destroying airborne and surface contaminants," said LVUSD Assistant Superintendent of Business Karen Kimmel. "The District is also providing classrooms with personal protective equipment, dividers, sanitizers, thermometers, signages, wipes and masks. In addition, students' desks will be spread out and teachers will have PCR and antigen tests available to them every three weeks."
This is the first time in over eight months that students will be returning back to campus in the LVUSD district. The adaptation for students and faculty to transition from distance learning back to on-campus has been going very well so far, according to elementary teachers.  
"There is nothing that can compare to being in the classroom," said Bay Laurel second grade teacher Mary Bloom."Things are just really really good back at school." 
Elementary students have been missing out on the social aspect of school which is a significant part of a child's education, according to Bloom. Since they are now back on campus, they will gain that social aspect of school back. 
"Kids are really missing out on the social aspect of school and things like playtime, collaborating, learning how to get along with kids, working together, and problem solving," said Ms. Bloom. "All these things are necessities in child development."