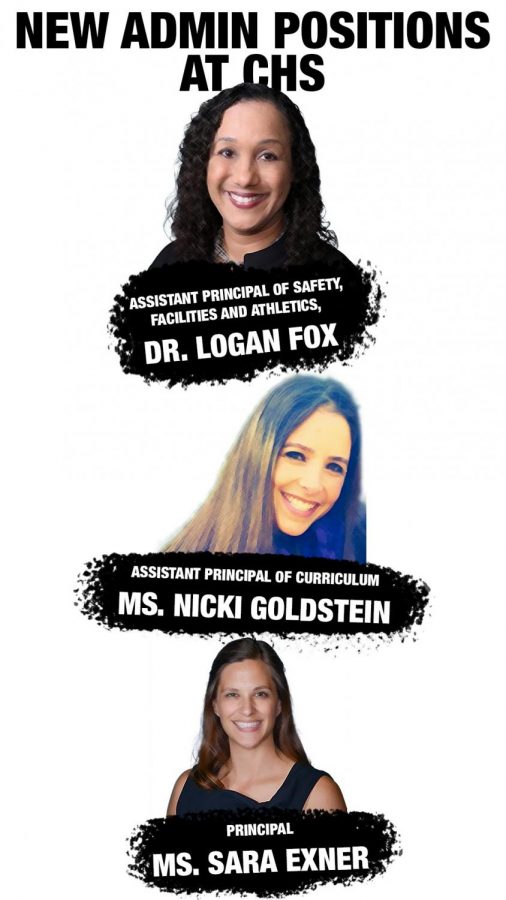 Oliver Litner
This school year, Calabasas High School faculty has added a new administrator and promoted two administrators to the roles of assistant principal and principal. 
The new members of admin at CHS include Assistant Principal of Safety, Facilities and Athletics, Dr. Logan Fox, while the promoted members include Principal, Sara Exner and Assistant Principal of Curriculum, Nicki Goldstein. 
Exner, who had been an assistant principal at CHS for three years, is excited for this next step.
 "I think [being principal] would be very hard if I had not worked here before," said Exner. "I love the energy that CHS students bring to campus, and for the staff, we're a big family."
Exner decided to apply for principal upon the retirement of CJ Foss, CHS's principal of eleven years. Exner felt comfortable doing so because she had already been on the admin team for a few years. 
"When the opening was available, I met with Ms. Foss and spent many hours discussing the school and her role changing," said Exner. "I felt it was the right time for me to step into the room."
Fox joined CHS this year this year after working for five years as an assistant principal at El Segundo High School. She ultimately became aware of the job through Assistant Principal Courtney Johnson, who had worked with Fox at El Segundo five years ago. 
 "It's been great," said Fox. "I love working with the admin team and office staff as well as working very closely with the custodial and maintenance staff. I am excited to get to know the students once the time is right."
With this school year being Fox's first year at CHS, she has had to adapt to the community in a very different way than any other teachers and members of administration have in the past.
"I am looking forward to meeting more of the staff and teachers and making those connections," said Fox. "I do what I do because I love working with and supporting teachers and students." 
 Goldstein had been working at CHS for the last year. This year, she has taken on the role of Assistant Principal of Curriculum after serving as Dean of Students. 
"When the Dean position came up for the high school, it was a step up from being a special ed teacher to overseeing a special-ed department," said Goldstein. "It served as a comfort zone for me. I was stepping into the administrative world slowly and then became the Dean at Calabasas." 
Making the change from Dean of Students to Assistant Principal has been easy, according to Goldstein. She has worked in many different departments among CHS and has stated that she is most excited to be in the position that she is now.
"I learned so much about this whole culture and what goes into being an Assistant Principal so I wanted to push myself," said Goldstein. "I just wanted to stretch myself and grow and be something bigger than I ever imagined. I am so amazed by all the creativity and resilience and preservation that the students and faculty have shown."