Barbie's controversial makeover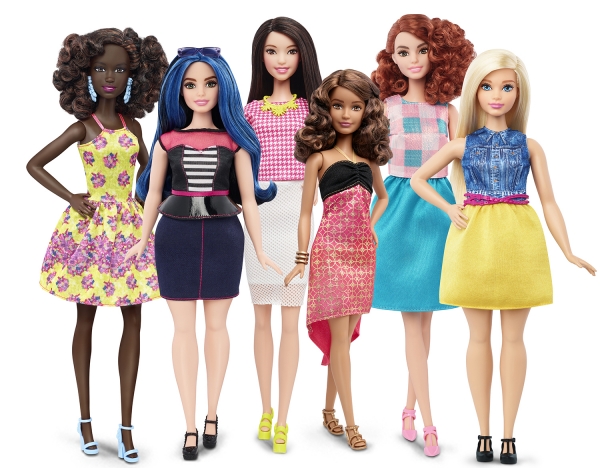 Hang on for a minute...we're trying to find some more stories you might like.
Pro
A young girl's first friends are Barbies. Consequently, Barbies often serve as role models for young girls. Some girls even idolize Barbie dolls and long to be like them. This can lead to many health problems, as young girls may feel as though they have to emulate Barbie's unrealistic figure. The new, diversified Barbie dolls, conceived by Mattel in Jan. 2016, creates a new variety of Barbie dolls and will therefore give young girls more realistic role models and friend.
Young impressionable girls will no longer have the mind-set that they must replicate the Barbie image and will therefore be able to evolve into young women without limitations. These new Barbie dolls will not only create new, realistic body images for young girls, but they will also help girls feel secure with their own body types as girls will have many different options of dolls to identify with, including a fuller-figured Barbie. Girls will now feel less insecure about their bodies because they can have a more diverse group of dolls to look up to, rather than just the traditional Barbie image.
"I truly wish that they had these different body-shaped Barbie dolls when I was young," said senior Cassandra Miller. "The dolls will most definitely help girls feel more comfortable and confident."
The newly shaped Barbie dolls will help young girls love their own bodies and feel more comfortable in their own skin. Young girls will no longer feel pressure to compare themselves to Barbie's unrealistic measurements; instead, they can simply be themselves.
Con
In late January 2016, the Mattel Toy Company announced a new line of diverse Barbies to be available for purchase. As Barbie's disproportional figure has caused much controversy, the new dolls are a triumph for body diversity. But while the creation of the dolls is proof of the body-positivity movement's success, the dolls will actually prove harmful to Barbie's main consumer: young girls. The new Barbies will make young girls even more conscious of their own bodies at a much-too-young age.
While there are studies that prove that young girls exposed to Barbie show lower self-esteem, the new dolls will not prove successful at combating this issue. Instead, the dolls will focus young girls' attention more on external characteristics, such as hip width and leg length. Furthermore, while the dolls were created to promote the celebration of different body types, in a society obsessed with body shape young girls may be in danger of comparing the dolls and favoring one body-type over another, therefore counteracting the purpose of the new dolls.
"By making "real life" Barbie sizes, the Barbie doll becomes solely about body comparison instead of its intented purpose to promote creativity," said senior Katie Romanovich.
All in all, Barbie is only a doll. The widespread body-image issue stems from much more than a plastic figurine. While the creation of the new bodies is a step in the right direction, in order for mass body-insecurity to resolve, society must change more than just its toys.