Cross Country program welcomes new players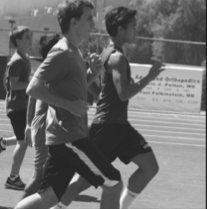 The CHS cross country and track team is coming back to prominence. Over the summer, the team added coaches Reed Vertelney and Pat Connelly, who have helped create a positive and helpful environment for the runners. This change has already made a huge impact in the amount of people that are participating this year.
Cross country is one of the fastest-growing sports at CHS. Last year, the team consisted of a total of 30 kids; this upcoming season they have 88 members on the team. Billy Tipp, a senior captain who has run cross-country since the 7th grade, is enjoying the presence of a large team.
"A big team adds more of a winning mentality as it breeds success by making more competition," said Tipp. "[The growth of the sport] is huge because running is a sport that you can do forever. All you need is shoes and you can run anywhere and anytime. By gaining popularity locally more kids will join which adds to the winning mentality."