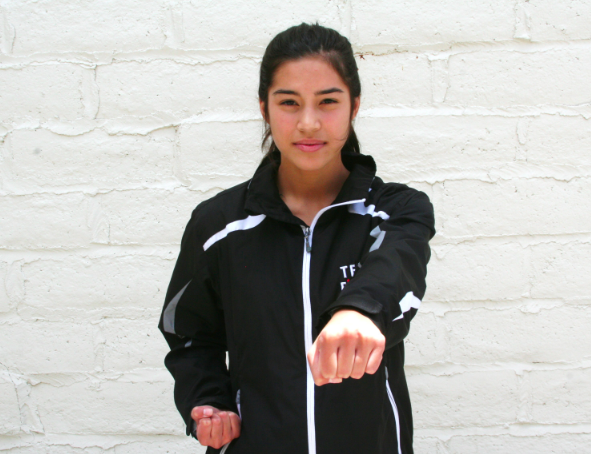 When junior Tabitha Gruendyke was a young girl, her father used to tell her stories every night before bed about his life as an athlete.  With each story, Gruendyke fell more in love with athletics.  Inspired by his tales, Gruendyke turned to martial arts and eventually taekwondo in the hopes of telling her own kids her stories just as her dad did to her.
"My dad's stories of victories, defeat and injuries inspire me to train harder and push myself past my limit," said Gruendyke.
Six years ago, Gruendyke began taking martial arts classes.  Her sensei always told her that her kicks were better suited for Taekwondo, so as soon as she achieved her black belt status, Gruendyke began taking Taekwondo classes.  Taekwondo is split into two categories: poomsae and sparring.  Poomsae is an event in which a competitor shows his or her technique to the judges, whereas sparring is three rounds of fighting with an opponent.  To show off her well-roundedness in the sport, Gruendyke competes in both categories.
Although she has not been competing for long, Gruendyke has made a name for herself at the competitions.  At the National Taekwondo Championship 2013 in Chicago, Gruendyke and her coach expected to only win silver in both poomsae and sparring.  To both her and her coach's surprise, Gruendyke won first place in both categories.
"That competition taught me that I should never doubt what I am capable of accomplishing," said Gruendyke.  "At the same time, however, I should not underestimate the potential challenge from another opponent."
In the past, Gruendyke has participated in several other sports but finds taekwondo the most rewarding.  Although the training is extremely intense and exhausting, Gruendyke loves the sport because it has helped her developed both as an athlete and an individual.
"Taekwondo has helped me improve both physically and mentally as an athlete," said Gruendyke.  "It has disciplined me to be respectful, confident and ambitious."
Just as in her dad's stories, Gruendyke has also experienced defeat after a gruesome match.  Although she sometimes wishes she could go back and work harder, each mistake serves as a lesson for future matches.
"There have definitely been times where I've wished I pushed myself harder or hadn't been too hesitant when fighting, but every mistake is a lesson," said Gruendyke.