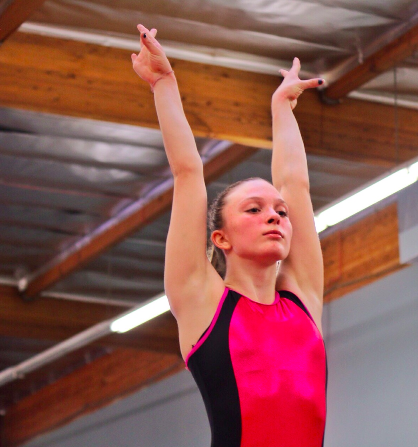 As she steps into Matrix Gym, freshman Caden Armstrong is able to alleviate the stress that has accumulated throughout her hectic day. Student by morning and gymnast by noon, Armstrong demonstrates both dedication and commitment in academics and athletics. Spending up to 30 hours per week practicing, Armstrong cherishes gymnastics more than anything else.
Armstrong has been doing gymnastics since she was two-and-a-half years old. Her drive to master gymnastics ultimately sparked after watching the 2004 Olympics. From then on, the majority of her time has been dedicated to this sport; so much so that she must be half-homeschooled to make time for her demanding schedule.
"I have been doing [gymnastics] for so long that it is kind of my love and my life, and I can't really imagine not doing it," said Armstrong.
Her motivated work ethic and years of training have landed her in some of the highest of rankings for her Level 9 group. Within gymnastics, there are 10 placements, or "levels", that one must advance through before they can qualify for the Olympics. To make it to Level 9 and to excel within that group is quite an accomplishment.
Armstrong loves to challenge herself in order to achieve her goals. As a strong believer in the concept of not focusing on fears, but instead using them to motivate oneself, she often bends over backwards to reach her objectives.
"Not focusing on fear but on your goal helps you get through it," said Armstrong.
Armstrong's competitiveness is her main asset that sets her apart from other athletes. She dedicates herself to perfecting her routines and believes that gymnastics is one of the most competitive sports the world has to offer.
"I'm a really competitive person and you really need that to be a gymnast," said Armstrong. "One thing, I always know what my competitors are doing, I watch videos and see what they're doing and match it."
Most would assume that any gymnast's most amplified dream is to compete in the Olympics. However, Armstrong sets her goals up a bit more realistically.
"I would love to go to the Olympics but there is a lot of politics involved in [the process]," said Armstrong. "It isn't just based on if you are a good gymnast, so although it would be fantastic and an amazing opportunity, realistically it would be hard to go."
Armstrong's determination and perseverance has launched her to the incredibly high standing in gymnastics that she holds today and continues to use these skills to expand further. Armstrong desires to reach the Elite level, which is the level required to qualify for the Olympics, and then obtain a college scholarship to a respected college.