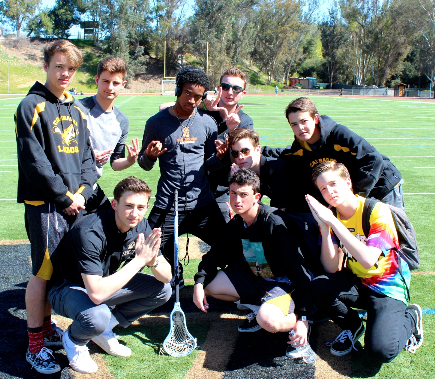 With the blooming of flowers and the arrival of the spring sports season comes the return of one of the most beloved teams on campus–the bold and spirited CHS lacrosse team. Senior captains Jack Korchek and Reed Hodder along with junior captains Skylar Gilmore and Griffin Gordon prepare to lead the LAX Bros to victory. However, the identity of the team is not simply based on winning games but something much deeper. Very few understand what it takes to be a Lax Bro.
Co-captain Gordon has a concrete goal set for this year. After combating adversity in 2014, Gordon is determined to lead his fellow bros in a different direction. Finishing 6-11 last year, the LAX Bros aim to turn that record around in 2015 and go 11-6.
"We like to think of it as a new era of Calabasas Lacrosse, and we are starting it," said Gordon. "It's a new attitude, a new Calabasas lacrosse."
The rejuvenated team bonds in its own unique way. The team stresses the fact that no member has an individual best friend. Each player is as close to one another, and the group as a whole cares for each other equally.
The LAX Bros partake in many team rituals and activities off the field. While the LAX Bros are known for their calm and laid-back manner, they always stay loyal to the sport. Riding to games, the team sits in silence out of respect for the job that has to be done. A moment of zen before battle helps calm their nerves.
"The LAX Bros are an extremely sophisticated group of young men," said junior Declan Graham. "We are kind, kindred folk, with a love for lacrosse."
Together the CHS lacrosse team has defined what being a LAX Bro really means. Only a select few can meet the required criteria to live up to expectations.
"Being a LAX Bro isn't just a title, it's a lifestyle," said senior Neil Villadolid. "Our lives revolve around boat shoes, short shorts and a loathing for baseball."
The entire team agrees that its most important trademark is its glistening and natural hair–no gel, all flow. Additionally, team hoodies, Hawaiian shirts, cargo shorts and of course the famous LAX Bros tie-dye prove their swag is on a separate level.
Their unique personalities and friendships have made them iconic rockstars on campus. However, stardom never boosts the egos of the party-going, lacrosse-loving family. The team rests upon a foundation of togetherness. Individuality is not a priority or a concern.
"If one of us falls we all fall," said junior Mitchell Hoover. "Except for freshmen, we don't like freshmen. Just joking. We all respect each other and always strive to make each other not just better lacrosse players, but better students and people."
Team manager junior Milton Zerman explained the significance of being a LAX Bro the best.
"I believe that being able to call oneself a 'LAX Bro' is an honor higher than almost any other," said Zerman.