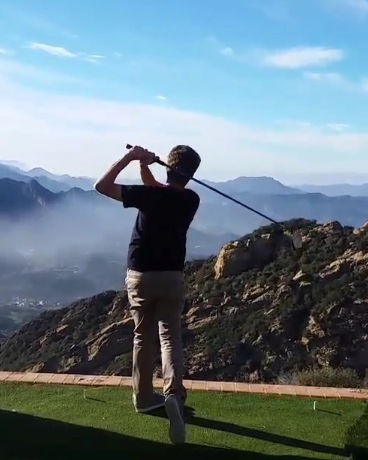 As he steps onto the cushioned, crisp grass, junior Elias Gross shoots a skilled ace. All game and no talk, he demonstrates expertise and strength and spends the majority of his time practicing to improve his golf game. Gross works his hardest to get closer to accomplishing his dreams of playing golf at the collegiate level.
Golf had always been a big part of Gross' life, but he started to take it more seriously in middle school. He became so fond of the game because he loves the competitive aspect. Jack Nicklaus has always been one of Gross' favorite professional golfers because of Nicklaus' extraordinary game. Nicklaus is considered to be one of the best golfers of all time with 118 total victories and 10 Champions Tour wins. Gross finds Nicklaus so admirable because of his perseverance and many victories.
"Golf is not just about competing with others," said Gross. "It is also about competing with yourself to better your game."
The firmest part of Gross' game is the so-called iron play and putting. Putting is a light golf stroke with the goal of getting the golf ball into the hole, while iron play is the ability to hit the ball with superior quality. He is currently working on becoming stronger in order to hit the ball farther. Gross' preferred course to play at is Rustic Canyon Golf Club because it is affordable, enjoyable and challenging. Gross averages 29 putts per round and has been ranked the number one golfer on CHS varsity golf every year. As of this Feb., he shot 73-71 at the golf club in La Quinta, 72-72-72 at Centennial in an American Junior Golf Association tournament, came in third at Alisol Ranch and second at the Midwestern Invitational. Gross has more of an individual résumé rather than a high school resume because most of his statistics come from individual tournaments that he competes in outside of school.
Gross has taken the recruiting process very seriously since he started his sophomore year. He plans on playing golf in college and is currently in contact with coaches. Washington State University, Gonzaga University, University of Hartford and Northern Illinois University are all schools he foresees himself attending.
"Contacting colleges has been a rigorous process," said Gross. "But the resulting factors that come with it makes every step of the way worth it."
Gross hopes for a prosperous season for himself and CHS varsity golf, and he wants the team to make it to the postseason and then onto state individuals. He will continue to use his skills to the best of his ability and expand further.