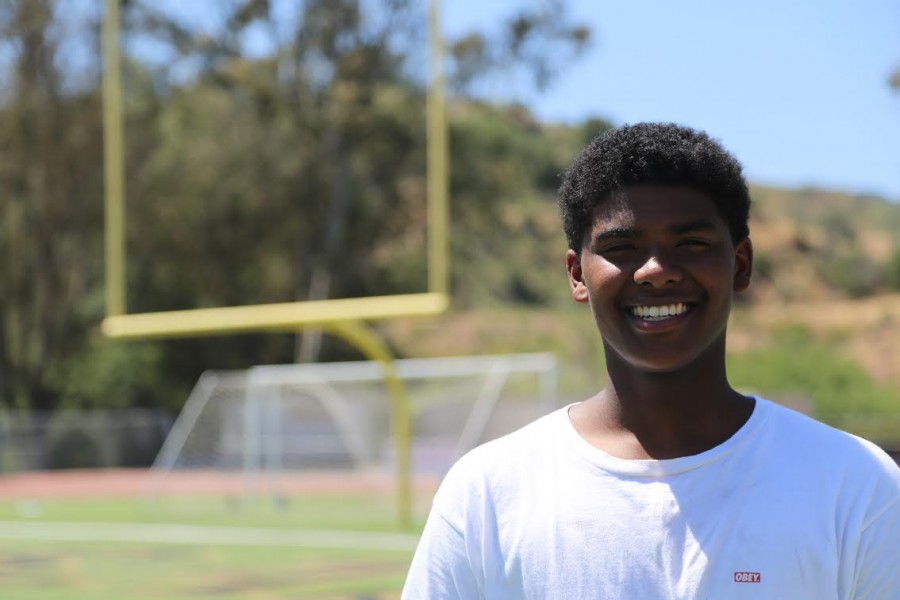 Charging for the end-zone, sophomore wide receiver Keyshawn Johnson Jr. sprints closer toward accomplishing a lifelong aspiration: playing division one college football. Johnson has worked his way up the class of 2017 recruiting ladder, accumulating more than 20 offers on his way to the top. However, his journey is not easy, nor has it ever been. Through unshakable confidence and extensive training, Johnson hopes to polish his skills in preparation for his bright future.
Johnson was introduced to football by his father, who was the first pick in the 1996 National Football League Draft and played 11 seasons in the NFL. As a child, Johnson was an avid football fan and his natural ability, love for the game and work ethic eventually showed. Playing for Mission Viejo High School last year, he recorded 30 receptions and 7 touchdowns covering more than 400 yards. Witnessing the success of the CHS program this year, Johnson is excited to represent the coyotes next season.
"I expect great things this season," said Johnson. "Last season was just an appetizer, making playoffs for the first time in I don't know how long. But our team is aiming for a state title this year."
Bonding with a new team will not be an issue according to Johnson. His outgoing personality and will to win makes future teammates eager for his first outing in a CHS uniform. Apart from his winner's mentality, Johnson's talent speaks for itself. He is being scouted by the most premiere universities in all of college football, including the University of Alabama, University of Mississippi, Ohio State University, Florida State University and University of California Los Angeles. His most recent offer from the University of Southern California is a high honor for multiple reasons. Not only are the Trojans a college football power team, but both of Johnson's parents attended and met at USC in the 1990s. While an offer from USC is tempting, Johnson is deciding to sit back and review all of his options as more recruiters are sure to knock at his door.
As far as improvements, Johnson works to refine his agility and speed in order to perform at the next level.
"All around I feel like I am a great football player," said Johnson. "I have pretty smooth routes and I can catch the ball really well. I just need to work harder everyday and strive to perfect my craft."
Johnson is anxious for a successful career playing the game he loves. He continues to work hard to ensure his role as a force in the future of football. His ultimate goal is to be an impactful student-athlete at the university of his choice and to eventually earn a chance to showcase his skills in the NFL. For now, Johnson humbly continues to mature and improve. He will let his offers do the talking as more letters of interest arrive in his mailbox over the next two years.