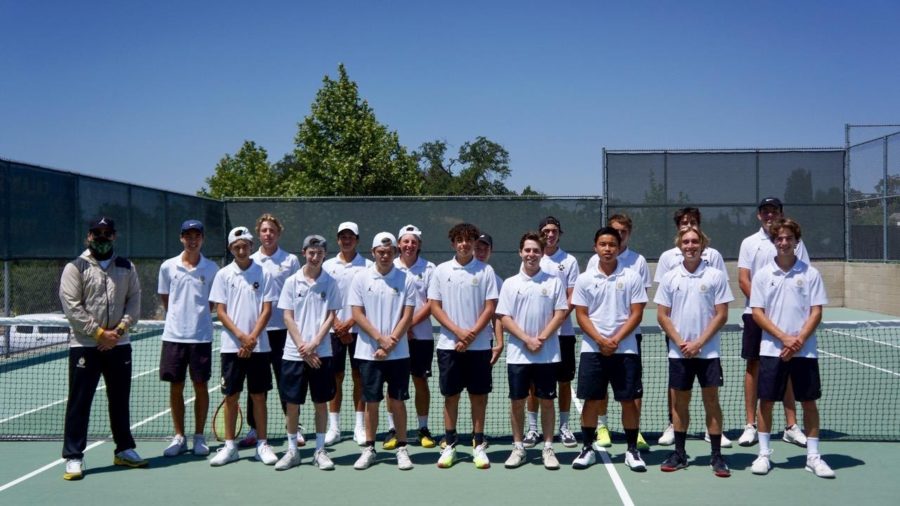 Calabasas Boys Tennis has come a long way under the guidance of their new head coach Josh Wiseman, from the indecisive beginning of the year due to COVID-19 restrictions to becoming 2021 Marmonte League Champions, in addition to qualifying for the CIF Open Division.  
"We did not know if we would have a season or not, but [when CIF announced that we will have a season], we were excited," said Marcus Sebastian, co-captain of the Boys Tennis team.
One of the significant challenges that the team faced during the regular season was not having as many practices as they used to before the pandemic, with practices taking place only once a week and the restriction of 2 players being allowed to play on one court. Even in tough times like this, the team kept their spirits up and continued pushing forward to sharpen their skills throughout the season.
"Our team had a lot of challenges but they stayed committed, evolved and really got it together in the end. We are on our way to playing our best tennis," said Wiseman.  
The Calabasas Boys Tennis team would not have gone that far without team cohesion, support for each other and most importantly, mental preparation.
 "Once we started getting into the season, we started to come together. I think now our team is 'in a groove' where we know what to expect when stepping on court. It feels more like a unit now and we're more ready for tougher challenges," said Luca Lovrich, co-captain of the Boys Tennis team.
With an 18-2 record this season, the Boys Tennis team advanced to the 2021 Ford CIF Open Division Championships, with a 15-3 win against Corona Del Mar High School last Thursday.
"[The team] trusted the process and have put themselves in a position of success this season," said Wiseman.
Thanks to their hard work and dedication, Calabasas Boys Tennis went undefeated in their league and are getting ready to compete in the semi-finals of the CIF Championships.