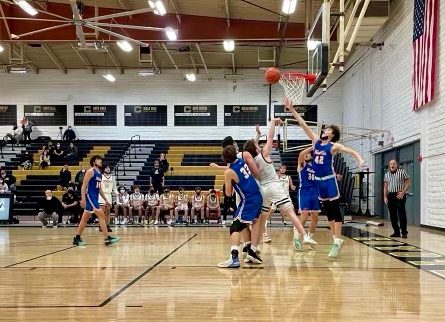 In a game with no fans allowed, Calabasas opened Marmonte League play with a win over Westlake, 63-59. Westlake was riding an eight game winning streak spanning for over a month, and the Coyotes were coming off a team game winning streak.  
Both teams came out of the gate at a slow pace, with senior Taylor Golden leading the scoring early. Midway through the first, Calabasas led 8-6. The offense started to pick up and both Calabasas and Westlake drained a few threes. Calabasas made no substitutions in the opening quarter and it was tied 19-19 after the first quarter.
The 2nd quarter continued with a slow pace and Calabasas was not as strong as they have been in prior games. 
"Our first half defense wasn't what we wanted and we needed to move the ball a little bit better", said Calabasas coach Jon Palarz. 
The Coyotes held a 24-23 lead midway through the second quarter and were having a difficult time scoring. Late in the quarter, Westlake went on a run to take a five point lead before Calabasas was able to cut the deficit to just one going into halftime. 
After halftime, the pace started picking up. Both teams started trading points and Westlake was hitting their three points. The Coyotes' offense looked more fluid and the ball movement created some great looks. The score was knotted at 47 heading into the fourth quarter, thanks to a strong drive and finish by junior Peter Gray which helped flip the momentum. 
Calabasas raced out to a 5 point lead within the first minute of the fourth quarter, and Westlake responded immediately and tied the game with six minutes remaining. With three minutes left in the game, Calabasas held a slim lead, 56-54. Shortly after, Gray scored, putting Calabasas up by four. Westlake hit two free throws with a minute left to cut the lead in half, but Golden had an and one finish contact to give Calabasas a 5 point lead and lock up the win. 
Golden's impact was felt on both sides of the ball, and he compiled 18 points to go along with Gavin Murphy's 19 points. Both Gray and Drew Martin added timely buckets to help secure the Coyotes' victory.
Due to COVID issues, the basketball team paused all activities over winter break. Coach Palarz was proud of his team's fight coming off a long hiatus.
 "It was tough to play for the first time in three weeks," said Palarz. 
Calabasas will be on the road January 7th against Oaks Christian.