Dessert shop adds Asian flair to American classics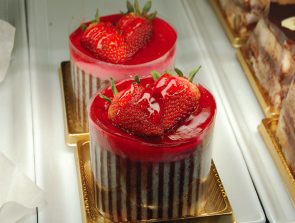 Jessica Smith - Staff Writer, '14
October 4, 2011
An anxious crowd impatiently waits outside the doors of Haus Dessert Boutique, guided by its ambient lighting to a decadent world of desserts.
The experience at Haus Dessert Boutique beautifully blends Eastern and Western heritages, providing a delicious cuisine unlike any of the other surrounding eateries.
The overall atmosphere is very modern, unlike typical, old-fashioned dessert shops. The interior of the shop is filled with brightly-colored booths and couches that give a pop of color to the design. Asian patterns contrast against the seemingly American decor. Guests can walk up to the glass display case to order their treat and then take it with them to either the dining room or outside, where guests can lounge on the patio.
The boutique combines traditional aspects from east and west to create signature dishes. Items such as the crunchy, deep-fried Ice Cream Tempura and the moist Green Tea Chiffon cake use both Asian delicacies and standard American ingredients in a fusion of flavor. The scrumptious Banana Foster-a deep-fried banana dish with a butter caramel sauce-and the Chocolate Fondue-a plethora of Asian fruits and treats dipped in dark chocolate-are two of their most popular treats.
Although the restaurant is widely recognized for their selection of tempting desserts, its exceptional menu also features hand-drip coffees, appetizing salads and hearty entrees. Haus is known for its unique take on spaghetti. Their pastas include Japanese influences including spicy caviar, fresh sea urchin, grated radish, katsuobushi flakes, seaweed and their signature butter soy sauce infused with Earl Gray flavors. Traditional Asian Tea is also offered in a variety of flavors, ranging from the standard Green Tea to the more exotic Mango Oolong Tea.
Haus Dessert Boutique brings cultures together to creat delicious culinary creations that add to the tasteful array of desserts throughout Los Angeles.
This Korean-American style bakery is located on West 6th Street in L.A.'s Koreatown. •