Rocket Fizz Candy and Soda Pop Shop provides old-fashioned treats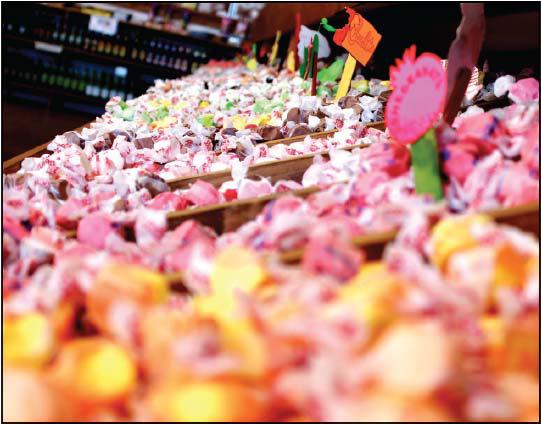 Julia Shapiro - Staff Writer, '13
October 29, 2011
Barrels of colorful toffees, taffies and chewy delights line the floor as dozens of shelves exhibit a wide assortment of multicolored glass soda pop bottles.
Stepping into the shop is reminiscent of winning a golden ticket to the world of Willy Wonka; mundane problems disappear as one is immersed in a world of sweets and creamy soda.
Rocket Fizz was established in 2007 by co-owners Robert Powell and Ryan Morgan, whose nostalgia for candy and soda led to the opening of a family-oriented candy store that offers unique treats in hundreds of mouth watering flavors. Rocket Fizz also allows a variety of generations to unite through a common interest: a sweet tooth. Customers come to Rocket Fizz and conjure memories of their childhoods, with each visit adding to the welcoming ambiance.
"Customers walk into the store [ranging from] three year old kids [to] 90 year olds, coming [in and seeing products they have not seen] since [they were] children," said co-owner Rob Powell.
"The customers like to talk about the products, past childhood experiences and discuss how our soda brings back those memories; so we build our inventory around what people want."
While browsing the vast collection of bottles and wrapped treats, the wall décor ties together the retro feel of the store with vintage John Lennon pictures and 1940's car posters. Throughout the store, old-fashioned wagons carry piles of assorted candy and an entire wall is devoted to flavorful taffies, with flavors ranging from pina colada and guava to chocolate chip cookie and mocha frappe. Customers can pick up their own bag and fill it with whatever candies they desire.
"One day we were playing old fashioned music on the radio and we were inspired by the enthusiasm of whole store dancing to one classic song, so we based the theme of [Rocket Fizz] on the genre [of] that song," said Powell.
Currently, Rocket Fizz has 35 soda labels, which have been inspired by events in the co-owners lives as well as stories from customers in the shop. Their wild imaginations have c
reated flavors such as "Lime Sublime," "Cherry Jubilee," "Pumpkin Patch," "Bacon Soda" and dozens of other flavors. In addition to these original sodas, Rockey Fizz also sells a variety of international sodas that are common today.
The Rocket Fizz owners travel all over the United States, bringing back bold flavors to create new beverages and combining the best of what they have encountered.
"We come up with all our crazy, wacky ideas and they all follow events in our lives, T.V. shows, and [aspects] in everyday life. We have franchises nationwide and hope to have a Rocket Fizz in every city [because] everyone loves candy and soda," said Powell.
Leaving the world of Wonka behind, customers return to the modern world, soda bottle in hand, once more. When their sugar supply is depleted, eager locals always know exactly where to go to fulfill their cravings. With more franchises opening across the country, Rocket Fizz continues to welcome each generation and will forever provide soda and candy fans with a vintage-themed escape. •