Sqirl makes mealtime fun by providing delicious food and a wonderful atmosphere for guests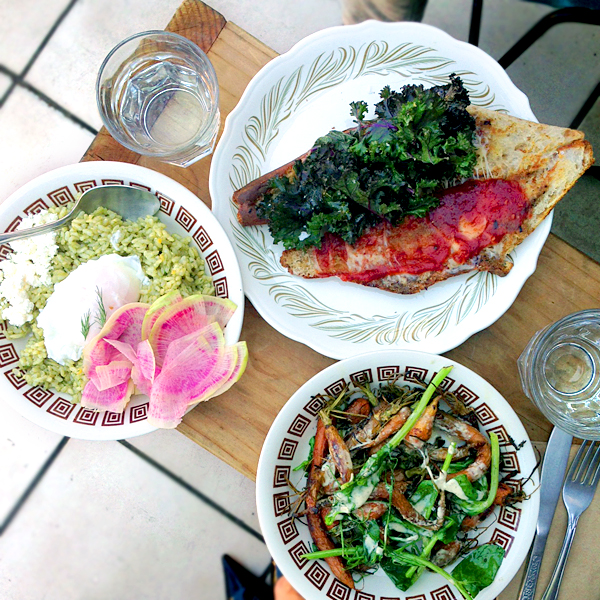 Hang on for a minute...we're trying to find some more stories you might like.
After a long, stressful week at school, students usually yearn for relaxation. Luckily, Los Angeles has welcomed a new lounge that offers just that. Sqirl is a hip cafe in Los Angeles that serves globally-inspired breakfast and lunch along with a variety of housemade jams. Offering coffee as well as healthy and vegetarian snacks and meals, Sqirl's usual crowd is composed of college students, locals and tourists who visit from around the world. The delicious coffee, desserts and tea selection make this unique bistro well worth the wait.
"If you enjoy chaos as much as you do toast smeared with chocolate ganache and almond-hazelnut butter; toast with poached egg, lemon zest and cream; toast served with quince paste and transparent slices of prosciutto; or toast crowned with fried egg and greens, Sqirl may well be your favorite place in the city—as dedicated to eggs and green vegetables as Animal is to dangling bits of swine," said Counter Intelligence Jonathan Gold. ??? what ???
Hidden behind a flowering Pink Tabebuia tree near Los Angeles' Silver Lake neighborhood, Sqirl is known for its casual and cozy environment. This inviting coffee shop made its first appearance on the corner of Virgil Avenue and Marathon Street as a preserves company in 2011, and has since added a breakfast and lunch menu along with a catering service. Their 800-square-foot space is entirely market-driven with creative specials and dishes that have never been seen or heard of before. Sqirl offers a rotating selection of desserts, two of their most popular being the Malva Pudding Cake and the Valhrona Fleur De Sel Cookie.
"I went to Sqirl for the first time last Saturday with two of my friends, and it was really cool," said sophomore Emma Brauer. "The coffee was absolutely amazing and the food was unique, but delicious. I cannot wait to go back and try more of their menu."
Sqirl also sells homemade jam for about $13, with flavors ranging from Gravenstein Apple Butter to Moro Blood Orange Marmalade to even Rhubarb Kumquat depending on the season. All preserves are made on site in copper jam pans using techniques that date all the way back to the 1500s. Sqirl claims that these ancient techniques are what make their jams so fresh and enjoyable. Sqirl is open from 6:30 AM to 4 PM Monday through Friday and 8 AM to 4 PM on the weekends. Start the day right by taking a trip to this unique cafe and sipping on a savory cappuccine or an ice-cold lemonade.
720 Virgil Ave #4 Los Angeles CA 90029