Blast from the Past: What was your favorite teacher like in high school?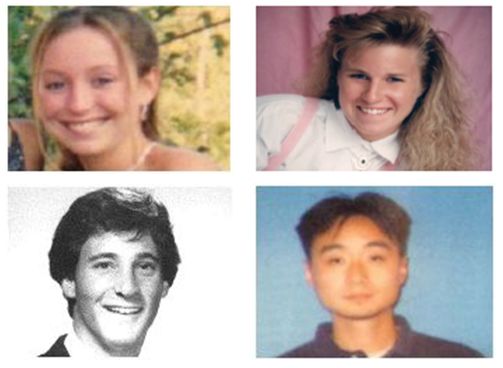 To much surprise, your teachers used to receive homework instead of assigning it. Take a look at how they have transformed since their high school years.
Jon Palarz: Jock
Combining his intelligence with athleticism, Honors and Advanced Placement U.S. History teacher Jon Palarz was both a jock and a nerd in high school.  Despite losing his hair, he still has the same vitality from his youth.
Throughout his four years at Harvard-Westlake High School, Palarz played football, basketball, baseball, golf and ice hockey.  He also portrayed a pirate in a school production of Peter Pan.
"If I could go back, I would tell myself to lighten up," said Palarz.  "I would tell myself the same thing today."
While studying at Wesleyan University for his bachelor's degree, he joined a fraternity where he was able to loosen up and have new experiences.  He later attended Harvard University for his master's degree and DePaul University for his teaching certificate.
Palarz has barely changed since high school.  As a basketball coach and a history teacher, Palarz combines his enthusiasm for learning and sports to pursue his dream career.
Written by Peyton Herzog – Features Editor and Photos courtesy of Jon Palarz
Megan Swanson: Band Geek
In high school, Honors Physiology and Environmental Biology teacher Megan Swanson rarely had a moment to spare. Between marching band, softball, National Honors Society, French club and prom committee, saying Swanson was an actively involved student at Hampton High School in Allison Park, Pennsylvania would be an understatement.
This self-proclaimed band geek balanced the academic, athletic, social and extracurricular aspects of her life with grace while still remaining organized, spontaneous and energetic.  She even won "Best Musician" as her senior superlative and was Drum Major in the marching band during her junior and senior years of high school.  Swanson also maintained the security of a close-knit social circle that shared her likes and interests.
"In high school, everyone is just trying fit in," said Swanson.  "But when I got to college, I realized that the things that made me unique are also the things that made me interesting."
Written by Cydney Hayes – Opinion Editor  and Photos courtesy of Megan Swanson
Ted Yoo: Nerd
Advanced Placement Statistics, Common Placement Statistics and Finite Math teacher Ted Yoo was once a snarky and comedic student who maintained good grades and a social life. Yoo saw high school as a requirement, not an experience.
"I never really gave high school a chance since I felt like it was a place I was obligated to go to," said Yoo.  "On the other hand, I saw UC Berkeley as a place I worked hard to get into and made a conscious decision to attend."
At the University of California, Berkeley, Yoo was involved in extracurricular activities such as political clubs.  He also volunteered at his local church.  While he spent a lot of his time with friends, Yoo reminded himself that his time in school was temporary, and he needed to grow individually as well.
Although he has gotten older over the years, Yoo is still a kid at heart.
"I really don't think I've matured a lot after high school and college," said Yoo.  "I'll let you know when it happens."
Written by Cydney Hayes – Opinion Editor and Photos courtesy of  Ted Yoo
Kelly Ortiz: Social Butterfly
Sitting at her desk, Advanced Placement Art History and Honors English II teacher Kelly Ortiz reminisces about the days when academics were a mere pastime.  She recalls walking around the Saugus High School pool with a bathing suit in one hand and a schedule of Associated Student Body events in the other.  Despite her hectic schedule, she spent her time socializing with friends and enjoying her youth.
"High school was all about socializing," said Ortiz.  "I spent way too much time out with friends and not enough on my academics.  I was a late bloomer when it came to school."
It was not until her senior year at California Lutheran University that she found her niche.  As she traveled through the ancient cities of Europe, she explored an enriched culture and different perspectives.
After visiting Europe, her view on education changed.  Since high school, Ortiz believes she has expanded her knowledge infinitely and is always ready to discover more.
Written by Peyton Herzog – Features Editor and Photos courtesy of Kelly Ortiz