D.J. Brendon Levy expresses his artistic side through producing unique trap music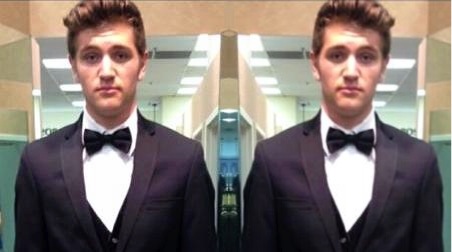 Daria Gershkovitch - Features Editor
June 10, 2014
Just as superstar D.J. Sonny Moore, more commonly known as Skrillex, effortlessly creates captivating beats, senior Brendon  Levy emulates the presence of a masterful D.J. the moment he pulls out his computer.  By unleashing his artistic creativity, he is able to create a whole new world of sound and package it in a way that is appealing to his audiences.
"I would love to become a D.J.," said Levy.  "I am just producing my own music right now, but I hope to start playing shows soon."
Due to his fervent passion for music, Levy began to experiment with Garageband during his freshman year. This program is a virtual music studio available on Mac computers.  Garageband taught Levy many valuable lessons about music and allowed him to become familiar with the complicated process of producing music.  Sadly, due to the demanding curriculum of high school, Levy was forced to take a break from his passion.  Now that his senior year is quickly coming to an end, Levy is beginning to produce music once again.
Currently, he spends most of his time on his newest computer program, Logic Pro 9 Studio.  This particular system comes with virtual drum kits, synths, pianos, organs, choirs, strings and other various instruments that aid him in orchestrating new music.  Levy exclusively composes trap music, an aggressive subgenre of techno music.  However, unlike other artists, he has made it a point to only use original loops, which are the sounds that repeat continuously throughout the song.  This means Levy must create beats from scratch, setting him apart from his other competitors.
"Music is something that I am very grateful for," said Levy.  "If I did not have music I would probably be going crazy – it is my therapy."
Levy's audience consists of friends and family who live all across the country but are able to spread his music through Facebook and other social media.  Their love and support for trap music has launched Levy's career to new heights.  Recently, he has created a SoundCloud account where he can upload new music and his fans can access his newest songs for free. In addition, he has also created a Youtube channel in order to spread the word about his latest work. As of now, there is only one song uploaded to Levy's channel, but there will be more of his music added soon.
In the future, Levy hopes to expand his fan base and become well known throughout the music industry.
"People should always follow their dreams," said Levy.  "No matter what, you can never give up on your aspirations and always remember to work hard."