Meet the cast and crew members of CHS' "Funny Girl"
Hang on for a minute...we're trying to find some more stories you might like.
Sebastian Guerrero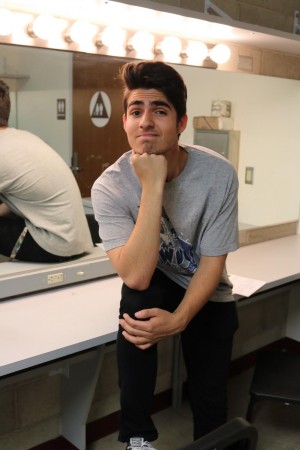 As senior Sebastian Guerrero awaits the publication of the "Funny Girl" cast list online, he loses track of how many times he has refreshed the Calabasas Theater web page. As the website is finally updated, his heartbeat increases and his head begins to spin. Despite his extreme nerves, Guerrero eagerly skims the page to see his name listed next to the male lead role, Nick Arnstein. As screams begin to fill the air, he feels a wave of satisfaction and sheer joy rush over his body.
Born into a family of musicians, Guerrero has always been drawn to music, singing and acting. When he discovered musical theater, he was ecstatic that he had found a way to incorporate each of them.
"The idea of having an art form that combines both of [my] passions, music and acting, was what initially sparked my interest in musical theater," said Guerrero.
Considering this is his last production, he has been struck by the nostalgia that many seniors come across. Although he has auditioned for every CHS production since his sophomore year, Guerrero felt inclined to audition for "Funny Girl" due to the sincerity and honesty that "Funny Girl" omits.
"I was compelled to audition for Funny Girl because I love how genuine the show is," said Guerrero.
Although starring in the school musical is very time consuming, he loves and appreciates the work and company of his fellow cast mates.
"My favorite part about rehearsing for the play thus far has 100 percent been flirting with [my co-star] Lily Lester," said Guerrero.
As an appreciator of the arts, Guerrero will never cease to enjoy the theatrical opportunities offered to him and plans to proceed into a career involving his passion for performaning where he will forever be able to express his talents.
Written by Jackie Sedley – Staff Writer
Ella Levy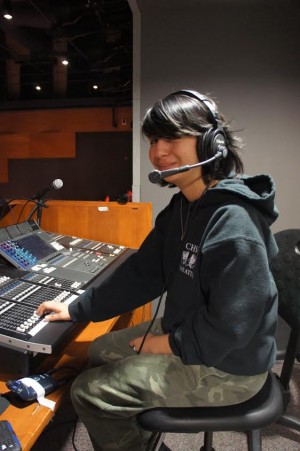 The actors walk off stage, the curtains close and senior Ella Levy celebrates backstage after another successful performance put on by both the performers and the crew. Levy has worked backstage as stage manager, projections operator or lights and sound manager for nearly every main-stage production since her freshman year.
"When I toured CHS, they mentioned the upcoming stagecraft class, and that's what made me want to join the school," said Levy. "Musicals and plays are so beautiful and they really transport the audience into another world. It always seemed so amazing to be able to be a part of that."
Since she was young, Levy has found stage crew intriguing. Infatuated with the idea of joining a stage crew herself, Levy immediately signed up to be a part of the theater program when she got to high school.
"My favorite part about being on crew is building a family with the other crew members," said Levy. "I also love seeing all the hard work turn into something amazing."
Levy is currently on the crew for the upcoming CHS musical, "Funny Girl", as the master carpenter. Although her career on Tech Crew is slowly drawing to an end, Levy has learned endless techniques that she will carry with her throughout her life.
"As a crew member, your hard work tends to go unrecognized," said Levy. "It teaches me that we don't have to look to other people for affirmation about how great of a job we did."
In the future, Levy hopes to go into technical theater. However, her most important goal for the future is to carry her newfound pride and self-reliance with her in whichever career she chooses.
Written by Syra Taub – Staff Writer