Politically active CHS students get involved in upcoming election
Andrew Isaac
People of all ages, backgrounds, and political orientation bustle around the Iowa caucus, identifying with others who share similar beliefs and discussing issues with other caucus-goers. One of these assorted people is senior Andrew Isaac representing a Bernie Sanders shirt. Isaac became interested in politics in 2008, when Barack Obama first ran for president. Though, his political enthusiasm increased greatly after learning about Sen. Sanders' fight against income inequality. This passion led Isaac to become an avid Sanders follower, traveling half the country to show his support.
"Once I began to follow the political campaign process, I became invested in the candidate I believe in," said Isaac. "Politics makes you want to learn more about the issues being discussed."
Isaac aligns most with Sanders because they both agree that inequality of wealth in America is one of the most prevalent issues today. He believes in every citizen's right to affordable college and healthcare.
"One of the reasons I am attracted to Sanders," said Isaac, "is his passionate plan to create a stronger federal government."
Citing Alexander Hamilton as his political inspiration, Isaac claims he is not currently seeking a career in government. He hopes to explore various occupational paths in college. This year is a major point in Isaac's life because it marks the first election he will be able to vote in. His interest in the election process brought him to the Iowa caucus, where he was able to express his passion for politics and talk to other Sanders supporters.
Isaac even experienced a rather awkward encounter with presidential candidate and Texas senator Ted Cruz. Wearing Sanders apparel, Isaac posed in a picture with right-wing Republican Cruz, who was on his way to deliver a speech.
"Cruz was a bit surprised and confused because half my Bernie Sanders shirt was visible through my jacket!" said Isaac. "But he still let me take a picture with him, which is very funny."
Danielle Miller
For senior Danielle Miller, politics is more than simply watching the debates and picking a favorite candidate.
"Politics has given me a sense of endless curiosity," said Miller. "It has given me a sense of direction – a mission and purpose in life that fuels my ambition and drives my spirit."
Following the popular issues of candidates has given Miller an optimistic attitude toward fixing the world's problems. She recently took an internship working for former Congressman Henry Waxman, an experience that gave Miller an in-depth look at how legislation works and big picture governmental functions.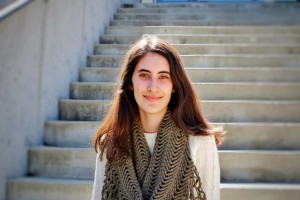 "My interest in politics developed at an early age," said Miller, "but truly solidified when I began working for Waxman."
Inspired by Hillary Clinton, Paul Wellstone and Dwight D. Eisenhower, Miller dreams of someday landing a career in the White House.
"Ten years down the road I would like to see myself in a job where I can make the connections and take the steps I need to work my way to higher executive levels of government in my thirties and forties," said Miller.
Not only has she worked for a former Congressman, but Miller has also had intimate encounters with Gabrielle Giffords, Mark Kelly and Hillary Clinton. Clinton invited Miller to a healthcare conference facilitated by the Service Employees International Union as response to a letter Miller sent to Clinton's administration. Miller even had the chance to meet Clinton one on one after the event.
"I was truly amazed at how genuine she is," said Miller. "Behind the scenes she is warm, generous and presidential."
Miller's passion and inner drive have proven to reward her so far on her political path. There is no doubt her determination and wisdom far beyond her years will take her even further, likely to the White House.