Then versus now: CHS veteran teachers reflect on changes throughout the years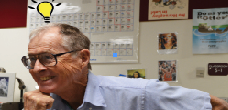 Liv Dufine - Staff Writer, Saman Rad - Photographer
November 2, 2017
Larry Walker
Throughout 40 years of working at CHS, AP and Honors Chemistry teacher Larry Walker has seen many differences in students' motivation, values and attention spans. Although the overall behavior has not differed by much, many big-picture aspects have changed. Previously, students were more passionate, and had never sacrificed their hobbies to get into prestigious colleges.
"Motivated students are jumping through hoops so that college 'A B or C' will love them," said Walker. "Students are sacrificing themselves, and their own developments of passions."
Despite popular opinions, Walker does not see the benefits of technology in the classroom.
"Technology is a great servant and a lousy master," said Walker. "People are too addicted to technology. However, I certainly get a lot of information from the Internet."
During the course of Walker's career at CHS, there had always been an expectation for how students should dress, and Walker sees dress code violations as a reflection of the modern student.
"People should dress in a manner which fits the setting," said Walker. "Not dressing appropriately degrades the culture of the school."
Granted that 40 years ago was a very different time, Walker continues to notice the good and the bad among CHS as it advances as a community.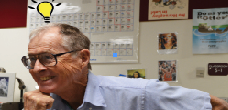 Kelly Ortiz
When English II Honors teacher Kelly Ortiz compares the students of today to the students of CHS 21 years ago, she sees obvious changes in the nature of the students and their habits. While the behavior of the students remain the same, many other variables come into play as she observes the natural evolution of change on campus.
"Students are more personable now and even more driven," said Ortiz. "But with this driven attitude, I find students are also more anxious and more stressed."
Generations of students have changed greatly over the course of a few decades. Along with other aspects, many educators' methods of teaching have changed. Previously, Ortiz and many other teachers were told not to personally connect with their students, but today's society demands a stronger bond for a teacher-student relationship.
"When I started teaching we were told not to create friendships," said Ortiz. "Now we are encouraged to build relationships with students, to get to know them and be a support system. I much prefer the idea of understanding the whole student instead of just teaching a course."
No matter what year it is, Ortiz excels at teaching her English II Honors class. She understands how only a few years can modify a whole classroom dynamic, and she readifully adapts to society's changes.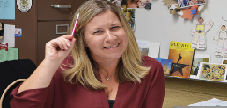 Michael Raleigh
Devoted Statistics teacher and ASB advisor Michael Raleigh has worked at CHS for 17 years and has therefore noticed many differences as time passes. Throughout his career, he has enjoyed seeing Calabasas High students adapt to their challenges and opportunities. Although students continue to succeed just as they did when Raleigh started, there seems to be a larger emphasis on doing well, no matter what passions the student may possess.
"In my view, one difference is that today's students seem to be under more pressure to have their postsecondary lives mapped out," said Raleigh. "Years ago, there wasn't nearly the same amount of pressure on students to get into a prestigious college."
The dress code has recently become a hot topic at CHS. Raleigh believes that speaking up may help the students have a voice and create a dress code that is more fair. He observes that the students are more interested in the rationales for rules like the dress code than in those for basic classroom behavior.
"My understanding is that the dress code follows from the state's educational code," said Raleigh. "If students perceive the dress code as an arbitrary imposition, then it might be worthwhile to have a discussion with district personnel about this matter."