Levi Kline spreads kindness with his "Compliments!" app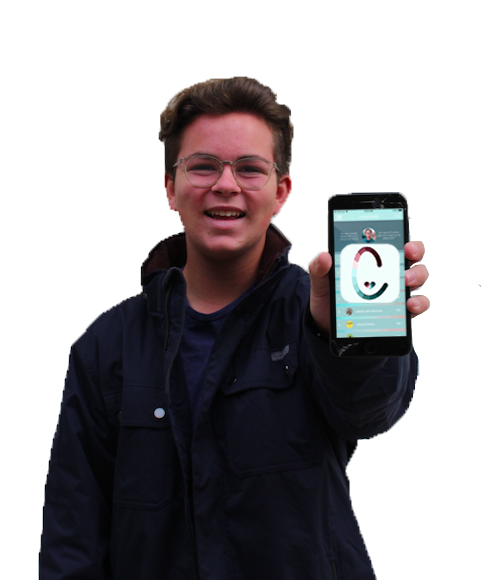 Hang on for a minute...we're trying to find some more stories you might like.
In an effort to bring people together, improve mental health and raise awareness for social causes in America, sophomore Levi Kline created an app called "Compliments!" in August.
According to the American Foundation for Suicide Prevention, suicide is the tenth leading cause of death in the US. This amounts to roughly 44,965 deaths per year and 123 deaths per day. Kline wishes to reduce this number by spreading kindness and positivity throughout his community.
"I remember coming home one day and seeing a newspaper article about an eight year old who commited suicide, something unheard of before this century," said Kline. "In my opinion, social media has been a large contributor to the increasing suicide rates, which is why I strongly believe in a positive outlet for teens."
Kline stated via text that he idealized "Compliments!" after feeling the negative effects of social media when he was 12 years old. He stated that his anxiety and stress levels were rising, and he felt that deleting social media would help him overcome his anxiety.
"Many things inspired me to create the app," said Kline. "Upon starting high school, I saw that people created clubs for causes they were passionate about. This inspired me to take my passion and create 'Compliments!'."
"Compliments!" is very user-friendly. To use the app, students create an account and link it to their school. After doing this, they gain access to send positive messages to other students affiliated with the app. With every compliment sent, students receive points that place them higher on a leaderboard.
"The concept is really fun and exciting because students make each other feel happy," said Kline. "By taking a minute or two every day to send positive messages, people are likely to be happier, reduce their stress and anxiety and improve their cognitive performance. This improves their overall well-being as they compete for the title of being the kindest."
Students are responding well to the app, expressing that it is boosting their confidence and making them happier.
"I love the idea of Levi's app," said sophomore Brendon Zimmer. "When other students send me compliments, my mood instantly changes and my day becomes brighter!"
Kline is working on the next version for "Compliments!" so that users may be grouped by interests, not only by schools. Some of these may be school safety, teen drug abuse and sexual harassment.
Search "Compliments!" in the App Store if you are interested in getting involved. If you or somebody you know needs help, please contact a certified crisis center or call the NSPH at 1-800-273-TALK (8255).