Mya Bojarsky's journey to her dream school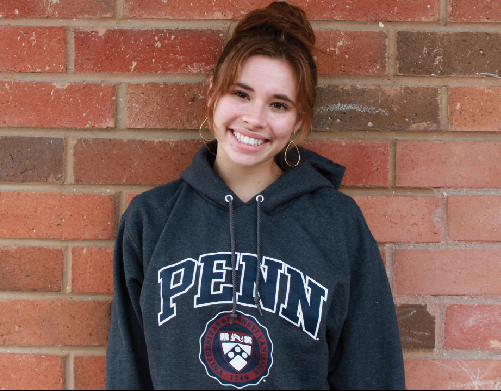 Cheyanne Gates - Staff Writer, Olivia Felsher - Photographer
February 26, 2019
Hang on for a minute...we're trying to find some more stories you might like.
Senior Mya Bojarsky will attend the University of Pennsylvania (UPenn) in the fall of 2019 and major in BioChemistry, furthering her goal of becoming a Pre-Medicine student.
Throughout her life, Bojarsky has thrived in school while also maintaining a career as a dancer. Although managing her time is sometimes challenging, Bojarsky believes that balancing her rigorous academics with dance have allowed her to actively reach her full potential and prevent her from getting burnt out.
Additionally, dance introduced Bojarsky to an organization that she now holds close to her heart and wants to further her involvement with in college and beyond; the Ishan Foundation raises money and awareness for neurological disorders and autism.
"The Ishan Foundation instilled in me the want to help others through a medical field of study," said Mya Bojarsky. "Working with children with cerebral palsy has opened my heart and my eyes to a world I hope to make better."
Along with the Ishan Foundation, Bojarsky wants to further her passion for dance throughout college, if given the opportunity. She credits her dance studio for helping her grow and allowing her to express herself in the most pure way: dance.
"Carousel Dance Studio is my home," said Bojarsky. "I spend over 25 hours a week there, and I have created a bond with the dancers and teachers that is unparalleled. I have made lifelong friends and mentors through this studio and will be forever grateful. I hope to continue dancing in college, or auditioning for dance jobs in Manhattan, a short train ride away from UPenn."
Bojarsky is excited to expand her horizons at UPenn and start this new chapter of her life, which will hopefully consist of researching addiction and traveling to different countries to help less fortunate children in need of medical attention.
"UPenn gives me the tools I need to make a difference and allows me to work to my fullest ability to achieve everything I want to achieve," said Bojarsky. "It will give me the knowledge I need to help children around the world and allow me to explore myself as well as decide what I want to do in a very academic and genuine setting."