CHS Performing Arts Center receives an Award of Excellence in architectural design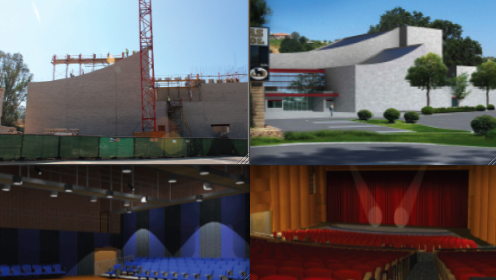 Sabrina Sigal - Staff Writer, '14
October 4, 2011
Hang on for a minute...we're trying to find some more stories you might like.
"In the future, we plan to have a gala event, which will include theater, music and dance performances from current students and alumni," said theater teacher Bill Gattett. "The [new] theater will be housing different outside community events, which will expose our students to the arts."
This summer the CHS Performing Arts Center received an Award of Excellence for its architectural design at the 41st annual Los Angeles Business Council Architectural Awards.
The CHS Performing Arts Center, although still early in the construction process, stood out for several reasons. In addition to a traditional theater, the center will also include a Black Box theater, an experimental space without a main stage. Once the building is complete, this theater will become the new location for performing arts classes at CHS. A fully functioning costume room, dressing room and scene shop for students to construct sets are being built to complete the design.
The center was also recognized for its thermal efficiency, which will save money in the future for heating and air conditioning. The building will have solar panels and tinted windows equipped with shades to reduce the glare from outside.
Overall excitement grows with each day for the completion of the Performing Arts Center, which is expected to be finished around October of 2012. •