CHS institutes tardy sweeps to satisfy the state's required number of instructional minutes
Jessica Smith - Staff Writer, '14
October 29, 2011
Hang on for a minute...we're trying to find some more stories you might like.
Since the start of the 2011- 2012 school year, CHS has administered a new policy of periodic tardy sweeps as a way to ensure students spend instructional minutes in class. Representatives from the state will most likely be stopping by unannounced sometime this year.  If the state is dissatisfied with CHS' performance, they will audit the minutes students are in class.
"The school and district can get penalized by the state for a certain amount of tardies, so to be proactive, we are incorporating the tardy sweeps and encouraging kids to get to school on time," said Assistant Principal Brian Mercer.  "We [do not] know when the state is [going to] come. We have these systems in case they show up, so we can be ready for [them]."
The new bell schedule for this school year fulfills the minimum amount of minutes required for all schools to meet the California State Standards. As a result, the administration wants to ensure all the minutes are being used to their full potential.
The administration believes that the most effective way to satisfy the state is by having students arrive to class on time.
"We decided to institute tardy sweeps in order to get students into class and make clear that our expectation is that they are in class when the bell rings and that they stay in class throughout the period," said Principal C.J. Foss.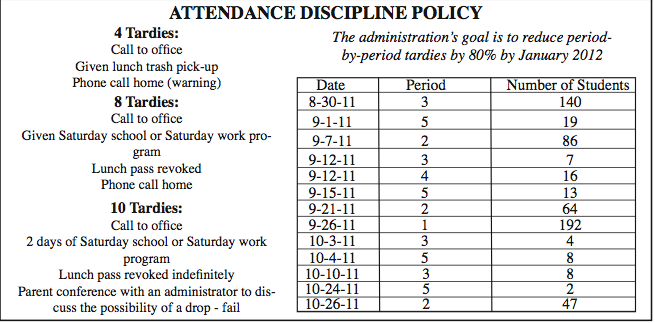 The students who are late to class when a tardy sweep is signaled must report to the administration office or the student store window. There, students will be assigned trash pickup.
If the program proves effective in its current state, the administration will continue the tardy sweeps in the future.
Due to a dramatic decrease in tardies over the last two months, the administration is pleased with the results thus far.  However, some students feel that the process is distracting and takes away time spent in the classroom.
"The tardy sweeps are just keeping students out of class for longer because you have to wait in line for your trash pickup," said sophomore Seth Rosenberg.
Even though some students are not in favor of the tardy sweeps, the administration will continue to prepare for the state's arrival by maintaining its current tardy sweep policy. •