CHS students participate in Color Run
Hang on for a minute...we're trying to find some more stories you might like.
On Feb. 2 CHS students attended the Color Run.  The nationwide event made its annual visit to Los Angeles at Dodgers Stadium.  This five-kilometer run, in which participants are covered in paint powder, raised money for the Nick Cannon Youth Foundation, an organization that encourages kids to engage in a healthy lifestyle.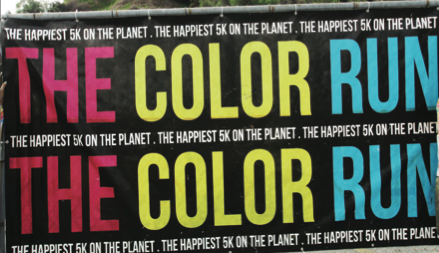 Travis Snyder, a serious runner and triathlon participant, founded the Color Run in 2012 in an effort to create a noncompetitive run and fundraise for charity.
"The Color Run is a unique experience focused less on speed and more on crazy color fun," said Jessica Nixon, the Public Relations Specialist of the Color Run.  "Whether you are a casual morning mall walker or an Olympic athlete, the three miles of the Color Run will be the most memorable and colorful of your life."
Among the CHS students who participated in the run are seniors Melanie Edwards and Morgan Lieberman.  This was the second time they ran in the event.  Edwards and Lieberman support the charities to which the Color Run donated.
"My favorite part was the splashes of color every 1K," said Lieberman.  "Knowing that my first run gave a large portion of its proceeds to Brothers and Sisters of America in 2012 keeps me coming back each year."  The Color Run aims to bring communities together in the 100 cities that it visits annually.  Each event also sponsors a different charity.  The 2013 Color Run will donate to Team Challenge,  when it visits San Francisco and Three Square Food Bank when it visits Las Vegas.
"Some people [who] participate finish in thirty minutes, but there are also people there just to have fun," said Edwards.  "Participants run, walk and even dance along the race."
In 2013 the Color Run doubled the amount of cities from its 2012 tour and hopes to increase the number again in 2014.
Photos by Ivory Ventura – Photographer and courtesy of Melanie Edwards