Mural Conservancy of Los Angeles appropriates funds to restore artwork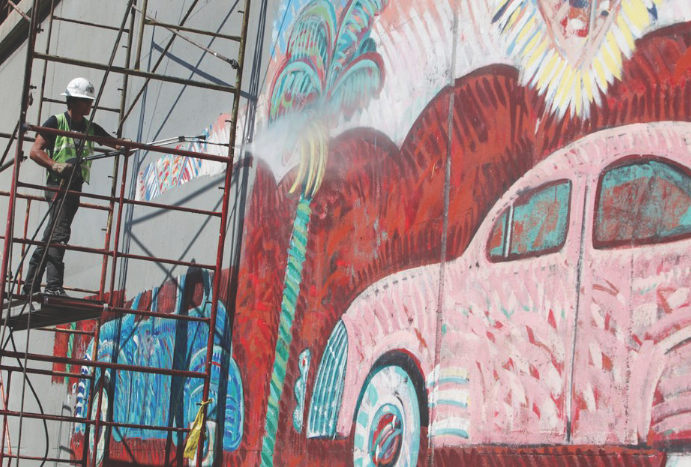 Allie Barnes - Staff Writer
April 18, 2013
The Mural Conservancy of Los Angeles has begun restoring a series of 10 murals on the 101 Freeway that were originally commissioned for the 1984 Los Angeles Olympic Games.  These murals were painted over in 2007 by the California Department of Transportation in an attempt to protect them from graffiti damage.  They are being restored in honor of the 30th anniversary of the games.
The Mural Conservancy in partnership with CalTrans is funding the restoration project.  CalTrans is a government-run organization that owns the land on which the murals are being painted.  Though two of the murals were damaged beyond repair by past highway construction in the 1990s, the eight remaining murals will soon be restored to their original condition.
"We chose to restore the 1984 Olympic Freeway Murals for several reasons," said Mural Conservancy Executive Director Isabel Rojas-Williams.  "Firstly, they are truly emblematic of one of Los Angeles' most vibrant periods in muralism, and when they began to deteriorate under the weight of tagging, aggressive weather damage and citywide neglect, we at the Mural Conservancy of Los Angeles  felt we had a responsibility to act."
Officials in charge of restoration efforts are striving to find a cost-efficient solution for protecting the murals.  The Conservatory has fundraised through donations, memberships, grants and various events including mural tours, lectures and workshops.  Though the murals will be restored to the best possible condition, they will still need to be protected from future graffiti damage, as their loca
tion is a popular spot for tagging.
Furthermore, the logistics required to complete each mural are extensive, as each requires its own unique restoration plan.  Also, they will all require comprehensive cleaning, testing and protective measures to ensure that once they are restored they can be easily maintained.
"Restoring the murals is a good idea because there are so many talented street artists that don't get the chance to work on huge surfaces anymore.  Bringing murals back will foster a more artistic environment," said senior Alex Zembo.
The restoration project will be completed around May of 2014. •