Ventura County starts Kanan Shuttle program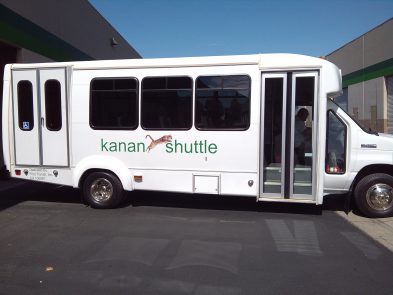 On Aug. 5, Ventura County started a new shuttle program called the Kanan Shuttle.  The shuttle is intended to help alleviate traffic along Kanan Road.  Ventura County's supervisor Linda Parks formed the idea of the shuttle.   City officials hope that the implementation of the shuttle program will help alleviate traffic on the roads.
"We are very excited about the new shuttle," says Kathy Connell, Senior Transportation Analyst for Ventura County Public Works Transportation Department.  "It is a brand-new service and we will be evaluating ridership and monitoring on-time performance during the first several months so that any issues can be addressed quickly."
The shuttle service will serve students from Oak Park High School, Medea Creek Middle School, residential areas near Kanan Road, community members with disabilities and cyclists.  The shuttle operates on a demand and response service know as Dial-A-Ride, which will be suspended during peak travel hours, which is between 6:40 a.m. and 9:00 a.m. and 2:30 p.m. and 4:00 p.m.  If needed, senior citizens and people with disabilities may still continue to use DAR to travel around the community.
"Dial-A-Ride is open to the general public," said Connell.  "People call and are picked up and taken where they need to go.  However, now with the new shuttle, those along the shuttle route do not have access to the Dial-A-Ride during the peak [travel] hours."
Kanan Shuttles will only operate during peak travel hours on Mondays through Fridays. Shuttles will return every 15 to 30 minutes from Riverside Dr. in Agoura Hills along Kanan up to Lindero Canyon.  These services will no longer be free after Nov. 1, 2013.  Prices have not been set yet but will be determined based upon an analysis of the ridership and interest shown in the shuttle over the next few months.  For more information visit www.kananshuttle.com or call (818) 707-2005.