Banned Books Week 2013
Hang on for a minute...we're trying to find some more stories you might like.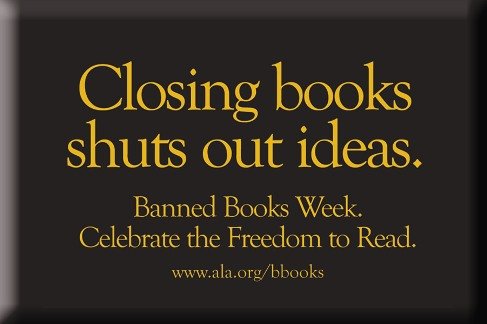 Band Books Week is dedicated to celebrating the freedom to read any book. This event focuses on eradicating any kind of censorship that comes from restricting access to a specific type of book. More information on www.ALA.org
List of Banned Books 2013
1. The Absolutely True Diary of a Part-Time Indian by Sherman Alexie
2 Feed by M.T. Anderson
3. The Handmaid's Tale by Margaret Atwood
4. Stone Dreams by  Akram Aylisli
5. Uncle Bobby's Wedding by Sarah S. Brannen
6. Ender's Game by Orson Scott Card
7. The Perks of Being a Wallflower by Stephen Chbosky
8. When It Happens Susane Colasanti
9. The Most Dangerous Game by Richard Connell
10. Carter Finally Gets It by Brent Crawford
11. Nickel and Dimed by Barbra Ehrenreich
12. Like Water for Chocolate by Laura Esquivel
13. Looking for Alaska by John Green
14. Tintin in the Congo by Hergé [Georges Remi]
15. The Kite Runner by Khaled Hosseini
16. Totally Joe by James Howe
17. The Popularity Papers by Amy Ignatow
18. Fifty Shades of Grey by E.L. James
19. Different Seasons by Stephen King
20. Sidescrollers by Loux Matthew
21. Allah, Liberty, and Love by Irshad Manji
22. 500 Years of Chicano History in Pictures by Elizabeth Martinez
23. Neonomicon by Alan Moore
24. Beloved by Toni Morrison
25. Fallen Angels by Walter Dean Myers
26. Intensely Alice by Phyllis Reynolds Naylor
27. Muslim Women and the Challenges of Islamic Extremism by Norani Othman, ed.
28. Fight Club by Chuck Palaniuk
29. The Family Book by Todd Parr
30. A Child Called It by Dave Pelzer
31. The Body of Christopher Creed by Carol Plum-Ucci
32. In Our Mothers' House by Patricia Polacco
33. And Tango Makes Three by Justin Richardson and Peter Parnell
34. Persepolis by Marjane Satrapi
35. Romeo and Juliet by William Shakespeare
36. Prep by Curtis Sittenfeld
37. A Thousand Acres by Jane Smiley
38. Waterland by Graham Swift
39. Hero-Heel 2 by Makoto Tateno
40. The Dirty Cowboy by Amy Timberlake
41. Stuck in Neutral by Terry Trueman
42. The Glass Castle: A Memoir by Jeannette Walls
43. Robopocalypse by David Howard Wilson
44. The Electric Kool-Aid Acid Test by Tom Wolfe