A Look into CHS Clubs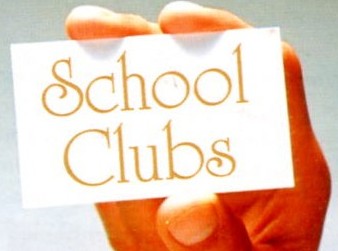 Hang on for a minute...we're trying to find some more stories you might like.
CHS Forensics Society
CHS's Forensics Society, formerly known as the Speech and Debate club, is designed to help students speak well in public settings. The original Latin denotation of "forensics" actually means truth, which what speech and debate students are trying to convey. Junior Brandon Yoon currently over sees all operations in the club. Yoon entered CHS as a sophomore and decided to start the Speech and Debate club when he realized there was not another club like this on campus. According to Yoon, the CFS enhances college applications, teaches members how to communicate in front of groups of people and enforces techniques of researching and rhetoric.
"I strongly believe that every student on campus can benefit from joining CFS," said Yoon. "Regardless of a student's experience or confidence in public speaking, [CFS] enhances critical thinking and deep analytical skills that will immediately reflect in a student's writing and academic performance."
Yoon believes that the CFS is a learning opportunity for all students. CFS meets twice a week on Mondays and Wednesdays in Mrs. Foley's room, H-205, after school. Students in the club participate in the Tri-Valley Forensics League against other private and public schools in the San Fernando Valley. The tournaments have different categories and consist of three rounds, and debates take place in classrooms. These tournaments are ranked by the amount of points gained during the debates. After the debates or speeches, competitors have the chance to win "nfl points," which increase the person's ranking within the National Forensic League.
CFS hopes to attract more students, and Yoon hopes to continue his legacy, making improvements within the club even after he graduates.
Written by Madison Young – Staff Writer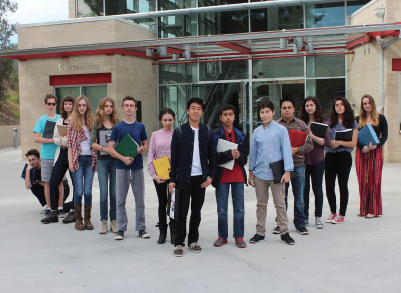 Photo by Chelsea Argue – Photo Editor
Stress Less
Junior Emily Harari is president of CHS's only club dedicated to relaxation: Stress Less. The goal of Stress Less is to provide an environment in which students can forget their troubles, focus on relieving anxiety and learn ways to cope with everyday issues including an abundance of schoolwork, relationship problems and lack of sleep. While the club is not dedicated to community service like most others, Harari asserts that maintaining a healthy body and mind is of utmost importance in a student's life.
"[Our purpose is] to empower students and staff to confront and manage their stress in a healthy manner," said Harari. "Stress affects everyone. If not managed in a healthy way, it can negatively affect yourself and those around you."
The club meets at lunch the last Friday of every month in H-212, and Harari strives to make each meeting an oasis of tranquility in a student's busy life. Every session has a theme and begins with a do-it-yourself project or a featured item that relates to the day's theme. The meeting concludes with a session of guided meditation, or a five-to-ten minute yoga session.
If a student is interested in joining the club and wants to learn more about stress in his or her own life, Harari encourages the student to take the club's stress-level survey. The higher the number, the more stress that person is under. The poll can be found by visiting the school website www.calabasashigh.net, under "Activities," then "School Clubs," then "Stress Less." Members of the Las Virgenes Unified School District board recently certified the survey for CHS as a helpful tool for monitoring students' stress levels, and Superintendent Dan Stepenosky has since advocated the club's importance by attending a club meeting and collaborating with Harari.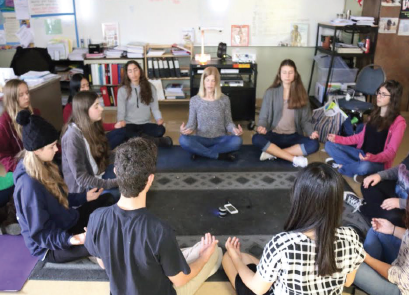 Photo by Dan Siman-Tov – Photographer