Ted Cruz: Zodiac Killer?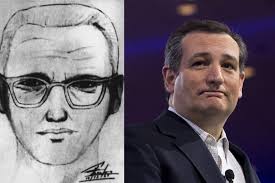 Hang on for a minute...we're trying to find some more stories you might like.
Republican presidential candidate, Texas Senator and alleged Zodiac Killer Ted Cruz accidentally revealed his next victim on public television on the television show Jimmy Kimmel Live! on March 30.
When talk show host Jimmy Kimmel asked Cruz about his opinion of opponent Donald Trump, Cruz evasively answered, "If I were in my car and getting ready to reverse and saw Donald in the backup camera, I'm not confident which pedal I'd push."
Some speculate that because the race for the presidential Republican candidate nomination is so close, Cruz's rumored past as the Zodiac Killer—a serial killer who operated in northern California in the late 1960s and early 1970s whose identity remains unknown—may resurface and tempt him to take drastic measures in order toensure his victory.
Some say the pressure of the Zodiac Killer accusation is getting to him. Later, when Kimmel asked Cruz what his favorite cereal is, Cruz immediately replied, "Cereal or serial killer?" This remark incited troubled murmurs and nervous laughter from the audience.
According to a recent Public Policy Polling (PPP) survey, 38 percent of Florida voters were either unsure or believed that Ted Cruz is the Zodiac Killer. PPP's Tom Jensen commented, "Cruz is exonerated from being a toddler serial killer by 62% of the Sunshine State populace."
Though Cruz supporters argue that Cruz could not possibly be the Zodiac Killer because the first confirmed Zodiac killing occurred in December of 1970 and Cruz's alleged birth certificate states he was born in 1968. However, some are unsure whether to trust that this is his actual birth certificate due to the fact that the name on it reads Rafael Edward Cruz, and people are unsure how one could derive the nickname Ted from a name like Rafael Edwards because the two sound nothing alike. Cruz has yet to publicly deny that he is the Zodiac Killer.