The El Camino Shopping Center undergoes reconstruction project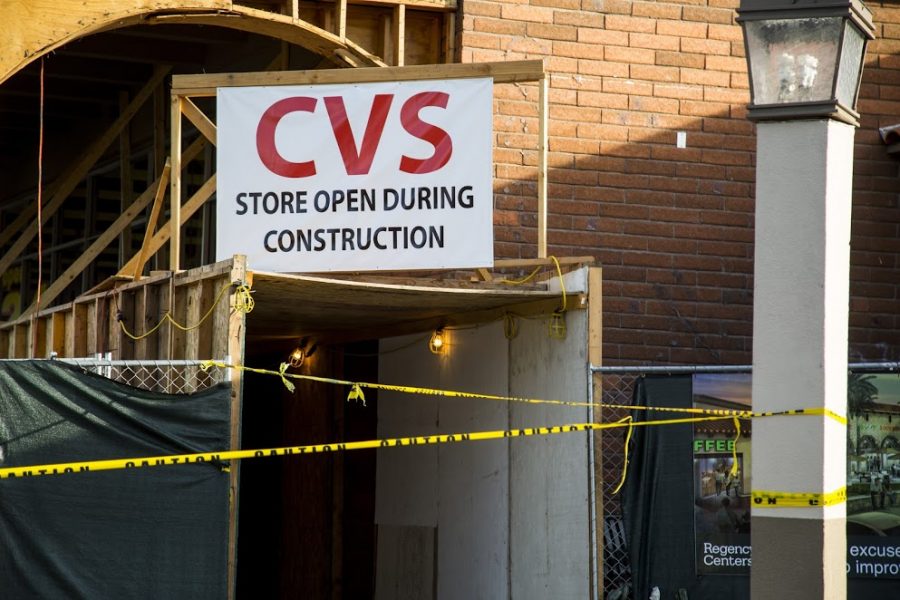 Arguably one of the most well-known landmarks in Calabasas is the El Camino shopping center. Opening up shop in 1968, the El Camino shopping center has played host to rest and relaxation, as well basic shopping necessities. The shopping center has undoubtedly evolved since then, opening more shops such as Subway, Fedex, Vons, CVS, Maria's Italian Kitchen, Starbucks, Islands and many more.
The heart of the El Camino shopping center is the main market. The main market has changed over the years, starting with Vons, which had been open for the last 60 years at the Calabasas location. In 2015, Haggen arrived overnight. Unfortunately, Haggen was taken down as fast as it was put up, closing later that same year. On Mar. 16, 2016, Tim Genske of Cypress Retail Group revealed that the next location for Bristol Farms would be in the El Camino shopping center. Bristol Farms is currently in construction and is scheduled to open in spring of 2017. Bristol Farms first opened in 1982, in Rolling Hills, Calif. as a high-end market featuring a bakery and deli. Bristol Farms will open next to CVS, also causing a huge parking lot renovation.
Another attraction that has made its way to the El Camino shopping center is Jamba Juice, specializing in fruit smoothies such as Strawberries Wild, Peach Pleasure, Banana Berry and more. Many people are excited to see a Jamba Juice finally arrive in Calabasas.
"Jamba Juice added much needed variety to the El Camino shopping center and another option for lunch," said senior Harrison Franz.
Jamba Juice has replaced Baskin Robbins, which had been the El Camino shopping center's landmark dessert place for years.
On the restaurant scene, the Hawaiian-inspired bar and grill Islands has closed business in Calabasas. Islands had been in the El Camino shopping center for years but has now closed its doors, welcoming a new restaurant. It has been announced that the Boiling Crab will open in its place. The Boiling Crab is currently under construction and is expected to open its doors in the spring of 2017.
The El Camino shopping center has put actions behind the word change. From stores to the parking lot, the El Camino shopping center will continue to renovate. Although the El Camino shopping center has been under constant renovation recently, these changes are expected to be finalized by the fall of 2017.