Decades after desegregation laws swept America, a Mississippi school district will finally join society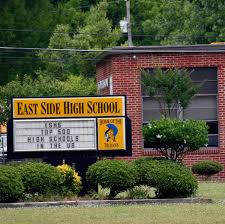 On May 17, 1954, the U.S. Supreme Court's decision in the Brown v. Board of Education case deemed the segregation of white and black students in public schools unconstitutional. While that was a major step in America's battle of diffusing systematic racism, it was definitely not the last. As a nation, America has progressed over the past several decades to provide equality for citizens of all races and ethnicities. However, some places have yet to take that first step.
In March, the small town of Cleveland, Mississippi settled on an initiative that will finally end the racial segregation of its local schools. For the past 52 years, Cleveland has upheld an all-white high school and an all-black high school, despite rigorous legal battles about this segregation. The town has tried to implement programs over the years that would join the two schools together, but they have overwhelmingly failed. Despite the lack of local order or district ruling requiring that the schools be divided by race, until recently, Cleveland High School remained a mostly all-white school, while East Side High School remained a historically all-black school (with only one non-black student currently enrolled).
"We conclude that, in the field of public education, the doctrine of 'separate but equal' has no place," said the U.S. Supreme Court in their ruling of Brown v. Board of Education. "Separate educational facilities are inherently unequal."
However, with the ruling that happened in March, the two schools will merge into a single high school that will preside on Cleveland High's campus; the East Side High campus will be used as a middle school for the town. In this southern community, where there are many other school districts who are still invested in deep-rooted racial segregation, Cleveland is making strides for itself. While the decision was met with a range of emotions, generally the town is all for making the new plan work.
"I think it is a good idea," said East Side High graduate Lataivian Wright. "It will give more kids the possibility to get to a better school. Kids can adapt to the adverse effects of multiculturalism."
While the end of this racial segregation may seem obvious and outdated to many, this landmark is still something to celebrate. Cleveland reminds the world that there are problems that need to be fixed within communities, but that as a nation, the U.S. has the ability to band together and make a positive difference.