Ariana Grande concert-goers face terror at Manchester performance as bomb detonates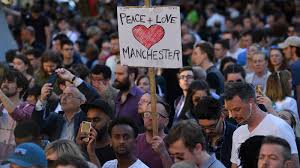 On May 23rd, a suicide bombing attack at an Ariana Grande concert at Manchester Arena in England left 22 dead and roughly 60 severely injured. The bomber was identified as Salman Abedi, who died on the scene.  The victims of the attack included several children and teenagers.
The bombing has been established as the deadliest act of terror in Britain since 2005 and the fourth deadliest act of terror in Western Europe since 2015. This act of terrorism caused British Prime Minister Theresa May to raise the nation's threat level to critical for the third time in history, suggesting the impending possibility of another attack. However, May has expressed her intentions behind raising the threat level, wishing for citizens to feel a sense of precaution and protection rather than heightened fear.
"I do not want the public to feel unduly alarmed," said May in a speech at Downing Street in Manchester. "We have faced a serious terrorist threat in our country for many years, and the operational response I have just outlined is a proportionate and sensible response to the threat that our security experts judge we face."
While the Islamic state has claimed responsibility for the attack, the fear of another attack and premonitions that others may have been involved are high. By raising the threat level, British police forces and security organizations will be provided additional resources and support as means to heighten their enforcement of security for the nation.
"NPOCC has provided additional firearms support to Greater Manchester police following the recent attack and is working closely with the force to assist with reviewing the security procedures," said the National Police Coordination Centre in a public address.
Although the terrorist attack is not thought to be linked to Ariana Grande personally, the location of the act has caused the music industry to grow more attached to the tragedy. Grande, in particular, has expressed her values of sorrow and devastation for the city and those affected.
"I'll be returning to the incredibly brave city of Manchester to spend time with my fans and to have a benefit concert in honor of and to raise money for the victims and their families," Grande said in an Instagram post.
While Grande's involvement in the aftermath of the situation was expected given the location of the attack, some celebrities appear to be using "heartfelt" online sentiments to victims and their families as means of publicity.  In particular, Kim Kardashian's tweet including an old photo of Grande and herself at a concert with a seemingly-narcissistic caption turned heads.
"Concerts are supposed to be a place where you can let loose and have fun," Kardashian's Twitter photo caption read.  "So scary to not feel safe in this world.  @arianagrande I love you."
On the surface, the message appeared sentimental and considerate; however, both the photo and tweet have little to no correlation with the actual Manchester bombing itself.  From the caption alone, one with no prior knowledge of the tragedy would assume that something had happened to Ariana Grande herself.  Contrarily, anyone educated on the situation would know that this is far from the case.  Additionally, given positive representation of Kardashian in the photo and her reputation for craving media attention, her tweet as a whole truly appeared as nothing more than a publicity stunt to better her image.
As of May 27th, the threat level has officially been lowered to severe and eleven suspects are currently in custody.  In much less significant news, Kim Kardashian has deleted her tweet in response to negative feedback from other social media users.  As terrorist attacks around the globe are growing in prevalence, society should strive to focus less on how tragedies can be used to one's advantage and more on how they can help those truly affected.