Admin tackles classroom roof leaks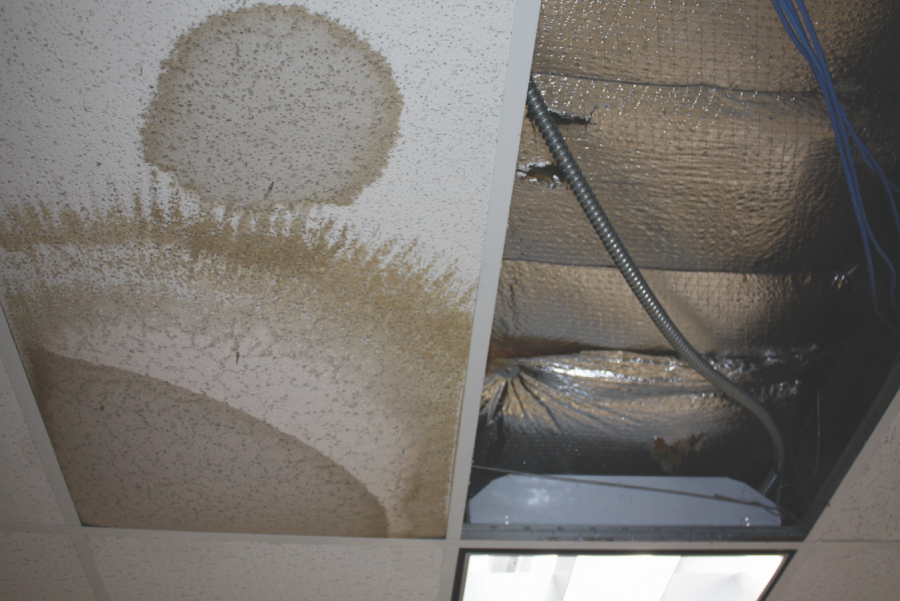 Rachel Franklin - Staff Writer, Samuel Ruda - Photographer
February 21, 2019
CHS administration is currently working on fixing ceiling leaks accumulating in multiple air conditioning units and drain pipes due to many days of heavy rains.
On Jan. 10, LVUSD Director of Maintenance, Operations and Facilities Julie Pescetto contacted the Falcon Roofing Company to examine multiple CHS buildings. The company discovered an H-Building leak from an air conditioning unit that has spread out to drip and create 18 smaller leaks throughout the upper level. Multiple leaks were also found in the X, M and PA Buildings as well as the MPR.
"It is not always easy to determine where a roof leak is coming from," said Pescetto. "Water might be dripping in the middle of the room, but the problem is located in the corner of the roof. In order to diagnosis a roof leak, you need to do some investigating."
Administration has noted several complaints about the situation, specifically since certain classrooms have wet floors, making it extremely easy for students to slip. Many ceiling panels are also warped and look as though they are about to burst; if water continues to soak through the ceilings, panels may be removed to prevent further damage and injury.
"[Mold] is not a concern because the water does not stay in any one area," said Foss. "[The water] drips to the floor and/or buckets and is removed."
The district's deferred maintenance account will pay for roof repairs. Since Calabasas is experiencing a rainy season, the roof company's goal is to repair leaks not requiring roof replacement; however, the option of total roof replacement has not yet been ruled out.
"LVUSD has a lot of aging roofs that will need to be replaced in the next few years," said Pescetto. "Replacing a roof is expensive, and we are looking at funding options. We will replace the roofs with a cool roof product that has a 20-year warranty." •