One Direction, one devotion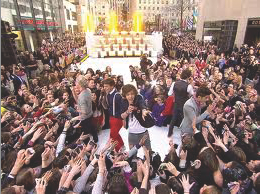 Hang on for a minute...we're trying to find some more stories you might like.
Whether one loves or hates this boy band on the rise, no one can deny the growing prevalence of One Direction in popular culture.  Since the band topped the Billboard 200 chart with its debut album, Up All Night, One Direction has been at the forefront of the modern-day boy band comeback.  One Direction has achieved fame and recognition in the music industry and  has won the hearts of fans worldwide.  The band has developed a large posse of teenage girls whose passion for One Direction has overtaken virtually every social media site.  These young fans have become so crazed that their obsession interferes with their daily lives.  Instead of studying or doing homework on weekdays, fans waste hours waiting outside hotel rooms or even following band members around Los Angeles hoping to get a picture or a signature.  While touching Harry's hand may have happened in a dream, in reality, most fans will never meet any of the band members, let alone share a meaningful experience with them.  Fandom today has become less about the quality of music and more about the physical attractiveness of the performers.  Because none of the members of One Direction play any instruments on stage, the essence of the band revolves around their iconic pop personas rather than their musical talents.  The stars of One Direction appreciate and value their fans, but stalking them is ultimately a fruitless endeavor.  As sad as the truth may be, to Harry, Zayn, Niall, Louis and Liam, every fan is just another face in the crowd.