Meet junior clothing designer Roman Williams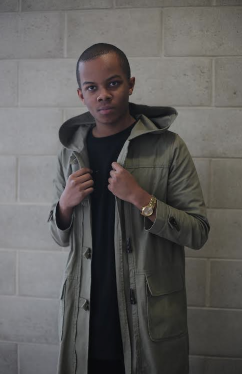 Laura Myerly - Staff Writer, Photo by Harris Federman - Photographer
February 9, 2015
Like any high-fashion clothing designer, junior Roman Williams is building a clothing brand out of a passion for fashion, and is slowly but surely working his way to success. From humble beginnings as a middle school student who learned to express his own style despite a strict dress code, Williams synthesizes edgy and modern elements with classic silhouettes to create his own original clothing line, titled Roman Williams Clothing. He describes his aesthetic as "street-wear," and one day hopes his career is as successful as designers, such as Givenchy.
As he continues to develop his line, his interest in fashion grows alongside. In fact, Williams used the seemingly restricted measures of his middle school dress code to experiment with his style.
"I have been wanting to make clothes for years now, and now that I understand what I like, I have begun to design clothes," said Williams. "When I was in middle school I began to experiment with the fitting of clothes or doing something more bold, like wearing a tie over a hoodie."
Williams' targeted demographic is young adults aged 13 to 21 who have an appreciation for the street-wear vibe. He has an inherent understanding for the needs of contemporary fashion and his modern designs appeal to young people. Williams has a deep appreciation for simplicity and quality in design and is determined to work hard to gain success.
"I would describe my style as simple, quality materials with beautiful stitching and artistic design," said Williams. "I don't have the money to buy the clothes I want right now but that's not going to stop me from starting from the bottom, which will make the reward that much sweeter."
As Williams gains more and more recognition through social media, he is finally able to see some of his hard work come to fruition. Williams has recently found a manufacturer that has agreed to produce a prototype of his line. Getting to this point has not been easy, and his recent stroke of fortune is especially gratifying.
"I had to go through some obstacles in starting my brand," said Williams. "I couldn't find a manufacturer that would make one prototype for me, but recently I found a great manufacturer that is making a sample shirt I designed."
As his buissness continues to florish, Williams is focusing on both short and long term goals to build up his brand and public identity. Like any other smart designer of the digital world, Williams is utilizing social media as his prime source for marketing to gain the attention of his targeted demographic. While fashion is a tough industry, Williams is not losing sight of what is important and is staying true to himself.
"My long term goal is to have as much fun as possible," said Williams. "I love designing clothes and building connections with my customers."
With such a positive and mature outlook on his future career as a fashion designer, Williams has everything in place to build up the brand recognition he needs to start manufacturing his designs on a larger scale. While today he is known as the ambitious high school designer with a vision, one day Williams's designs may be walking down high fashion runways, forever immortalized.