Special education program creates Positive Vibes Only initiative
In a new CHS special education initiative, students in the Community Based Instruction class are selling stickers to spread positive vibes around campus and fund class field trips. The students in the program are selling stickers in the lower quad for fifty cents each, helping them socialize with the Calabasas community while also raising money for a good cause.
In the past, students sold coffee to teachers in order to raise money. However, due to Covid regulations restricting this enterprise, students voted on a new idea that would expand past staff members. During lunch and nutrition, students are now selling stickers to the student body, gaining popularity throughout the school.  
"I see a lot of kids with water bottles, and everyone has stickers," said Ms. Van, teacher of Community Based Instruction (CBI) and organizer of the initiative.
This initiative offers students in the special education program the opportunity to socialize and gain autonomy. The Positive Vibes Only project also furthers students' communication and interaction skills.
"It's fun to be able to interact with the customers," said Jordan Harris, a student in the class. "I like selling the stickers. It is fun for me."
While CBI students enjoy connecting with the CHS community around the sticker stand, they are also learning important life skills in the CBI class, which is tailored to teaching independence and self-sufficiency.  
"We want to take [CBI students] out to the community and go grocery shopping, and then we want to take them to restaurants where they can order their own food and be independent," said Ms. Van.
In addition to raising funds for educational field trips, the Positive Vibes Only crew aims to inspire happiness on campus. Both students selling and purchasing stickers can enjoy the benefits of the exchange, encouraging greater friendliness and kindness at CHS.
"Kids are getting to know [CBI students] better," said Ms. Van. "It's a good opportunity to get [CBI students] out there."
With creative and trendy stickers, the Positive Vibes Only team is both inspiring an optimistic attitude on campus and supporting future CBI learning opportunities on community field trips.
Donate to Calabasas Courier Online
Your donation will support the student journalists of Calabasas High School. Your contribution will allow us to purchase equipment and cover our annual website hosting costs.
About the Contributor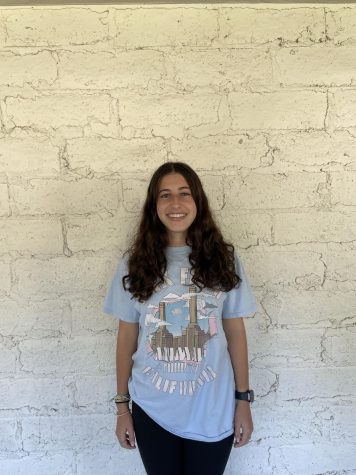 Hannah Sarnoff, Sports Editor
Hello, my name is Hannah Sarnoff, and I am super excited to be the Sports Editor this year! This is my second year writing for the Courier. I have always...