An inside look: "The Complete Works of Shakespeare (Abridged)"
This year, the CHS theater program is putting on The Complete Works of Shakespeare (Abridged), a compilation of his thirty seven different plays. The crew faced new obstacles after virtual productions during the pandemic but is ready to return to normal circumstances in the PAEC.   
The crew of this year's play has been working hard to produce a successful show. While building a production from the ground up often poses challenges, it is especially difficult after two years of digital performances. Last year's fall play was live streamed from the H-building, which is quite different from running a live show with professional equipment in the PAEC. 
"Definitely the hardest part about getting to live theater is our enrollment," said senior and stage manager Willow Gaven. "[The crew] lost a ton of people to graduation and then due to just the lull of the pandemic." 
In addition to readjusting to the PAEC environment, the crew does not have the assistance they did in previous years. Long time lighting designer for CHS productions Jim Smith was unable to help with this show, leaving students with the responsibilities of lighting design and rigging. In place of Smith, PAEC employee and former student Kayla Safavi has taken the lead. 
"It's difficult because I'm a visual learner, and [Smith has] only been telling me through the phone," said Safavi. "I only have words to go off of." 
For this show, set designer Arthur Riddle modeled sets after the Elizabethan era, when traveling theater companies had stationary sets that consisted of quilts made from mismatched pieces of fabric. Five huge pieces of muslin fabric, up to eighteen feet tall, were painted to look like real quilts, emulating those used in the past. This has made for one of the biggest paint jobs in recent PAEC production history.
With multiple plays to present in under two hours, there are many props and costumes, making efficiency backstage crucial. Crew members and assistant stage managers (ASMs) must ensure that every actor has the correct prop, is in the right costume and makes his or her cue.
"Last year, while virtual, [there were] very few props, and now it's a lot of props and no assistant prop master to go along with that," said senior and Propmaster Aaron Silvers. "It's definitely much more difficult."
Between audio, set design, lights, management and all the other moving parts that come with running a show, crew members have many obligations to ensure a successful production. 
The play will be performed Tuesday, Nov. 16 through Saturday, Nov. 20 in the PAEC.   
Donate to Calabasas Courier Online
Your donation will support the student journalists of Calabasas High School. Your contribution will allow us to purchase equipment and cover our annual website hosting costs.
About the Contributor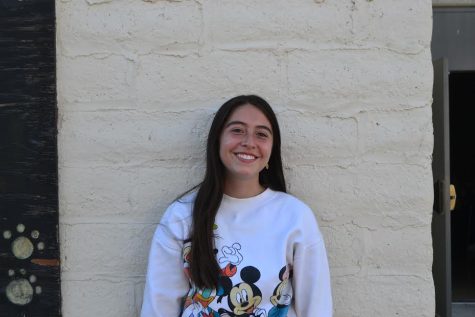 Michelle Miramontes, Staff Writer
My name is Michelle, and I'm in 12th grade. I'm so excited to be a staff writer for my first year at The Courier. I have always loved writing and think...