Wellness Center offers students support
In the wake of National Suicide Prevention Awareness Month, CHS wellness counselors Alison Tarczynski and Lisa Lucore emphasize their commitment to the emotional and mental well-being of students. 
At CHS, the Wellness Center serves as an area to relieve stress and discuss mental health struggles. Lucore and Tarczynski are available to support students in anything they may be grappling with.
"If you're struggling with any stressful social [or] emotional thing, we're the mental health specialists," said Tarczynski. "We're the line for that." 
Many students have found that the Wellness Center provides a positive environment to look to when experiencing challenges. 
"It's just such a good environment in [the Wellness Center]," said senior Summer Smith. "The counselors are so nice it's easy to reach out there." 
In addition to giving first-hand support, the wellness counselors aim to increase awareness of common signs of mental or emotional turmoil. While it may be difficult for other students to pick up on these hints, there are ways to recognize struggle.
"One of the ways to notice [unstable mental health] is a change of pattern," said Tarczynski. "We all have bad days. One, two days, maybe something just happened. But if it becomes a pattern, over a period of time, that's a way to see it."  
Students who notice their peers struggling can take actions to provide help, including being someone who is willing to listen and offering a distraction.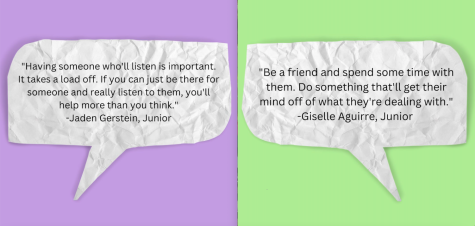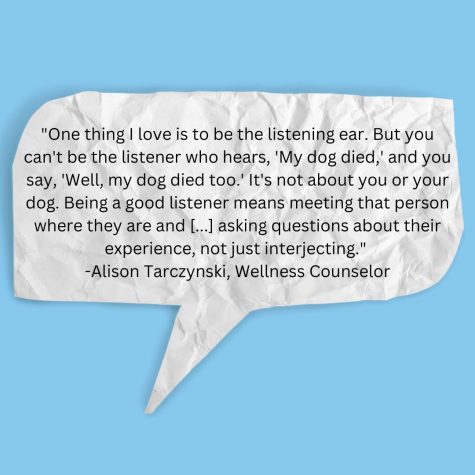 The minimization of others' problems is something to avoid when supporting a peer. The counselors hope to create an environment in which students are more understanding and empathetic towards each other. 
"We need to create a culture of empathy, where we need to believe the other person in their context," said Lucore. "The first thing we need to do is believe them. If they say they're struggling, it doesn't matter what your perception of their situation is, [only] theirs."
Although the counselors encourage students to support one another, they emphasize that students who see their peers struggling with suicidal thoughts or self-harm must seek an adult. 
"You are not the counselor, and you are not the adult in the room," said Lucore. "You can provide empathy, and you can provide an ear, but you can't take that burden on yourself."
While it may be difficult to seek help for a peer, taking that step will be worth it in the long run to protect health and safety. 
"I hear from kids, 'Won't [they] be mad that I told you?'" said Lucore. "And my answer to that is 'They'll be mad for a little while. But they'll be alive.' Be the listening friend, be the empathetic person that you are, but know when you need to seek an adult."
The wellness counselors are always available to listen to any issues that students have. They encourage struggling students to visit the Wellness Center. 
"Please, just walk into the Wellness Center," said Tarczynski. "We're open before school, during school [and] after school. We're the place for this."
To speak directly to a Crisis Counselor, students can text "HOME" to 741-741. A suicide prevention hotline is also listed on the back of each student ID card.
Donate to Calabasas Courier Online
Your donation will support the student journalists of Calabasas High School. Your contribution will allow us to purchase equipment and cover our annual website hosting costs.
About the Contributor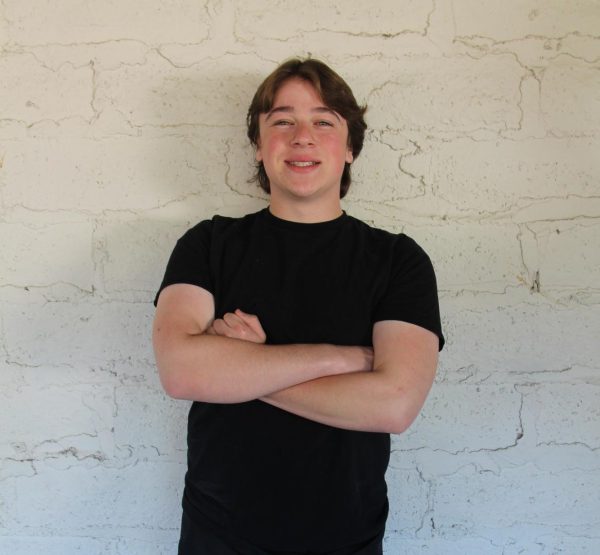 Adam Swarth, News Editor
Hi! My name is Adam Swarth and I am ecstatic to be the News Editor! This will be my third year with the Courier and my second on the editorial staff. There's...